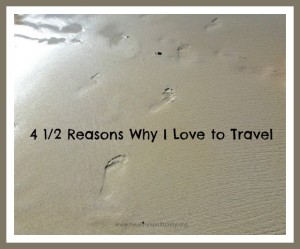 I love to travel. I grew up in a family that traveled as we took many exciting adventures when I was young.
My hubby and I discussed travel with two friends when we were in our first couple of years of marriage. The other couple, hard working and very seriously, told us they planned to pay off their mortgage and work on their careers before they did any travel.
Later that summer we turned down a trip to Germany due to a possible job change. The new job never materialized and we missed a wonderful opportunity.
We decided right then to always fully evaluate trip possibilities – no regrets. As a couple we would rather have memories with a mortgage than no mortgage and no trip memories.
Travel took a higher value for us from that year on (not the highest, God holds that place in our lives, then our family next).
I love to travel. Here are my 4½ reasons why:
Travel is mind expanding. I love to learn and see new sites and explore ways of thinking. Attentive travel helps us see the world through new eyes. Once home I have learned to appreciate the routine more too. I love stretching my mind, taking the risk to let go of what I tightly clench in order to embrace new thoughts and the adventure of new discoveries.
Travel is emotionally enriching. A few weeks ago as we traveled with friends, one commented that they had never heard me laugh so hard. Had I forgotten to laugh in the everyday? Taking a journey away from the ordinary helped me see the joy in all life again and to delight with a belly laugh. I lose track of time – what day is it? – and let go of the ego driven controlling schedule. To release the "what if's" that constrain us. Travel is freeing.
Travel is socially exchanging. When we've traveled to foreign countries, I am amazed how even with language barriers, we can communicate. Often with only a smile. When I see how ancient societies worshiped and I touch holy ground, I feel connected across centuries with the family of God. And what priceless memories we collect with our families and traveling buddies.
Travel is soul encouraging. I see travel more like a pilgrimage. As I visit other places, listen to novel sounds, taste new unknown foods – I find meaning to all life. When I see families, loving each other in a different culture – it is still love. Something unfolds deep within my heart on pilgrimage. Traveling keeps my soul awake. It is both a journey among and within. My true self emerges with travel.
½. Travel holds mystery, not fully realized until the afterglow of home and memories. That is why it is only a half – often I don't realize its treasure until years afterwards. It isn't a whole but an ongoing process. The lingering and savoring the pilgrimage later tastes so good and continues to nourish me.
What made me ponder travel? This post is part of the Atlas Girl Blog Tour which I am delighted to be a part of along with hundreds of inspiring bloggers. 
Emily T. Wierenga, award-winning journalist and author of 4 books, has released her first memoir, Atlas Girl: Finding Home in the Last Place I Thought to Look. They say the book is like "Girl Meets God" meets "Wild" meets "Eat, Pray, Love.". You can grab a copy here.
Emily asked us to explore various writing ideas and I chose this one: What inspires you about traveling? Slowly the 4 ½ reasons emerged.
What inspires you about traveling?