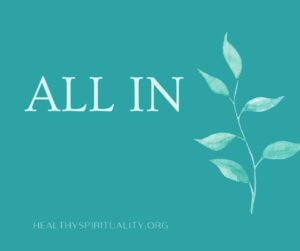 "All" is my word of the year, and I am exploring, listening, and watching for its wisdom and lessons. I am still in the get-to-know phase of my new friendship with my word.
I so enjoy the One Word Community founded by Lisa Burgess where I shared my words and experiences with others who also do this practice each year. Thanks to @lynnmorrisey who suggested in the comments there to read Mark Batterson's book All In to add insight to my word.
Reading what others write about your word of the year is a great way to start.
Discovering the words to define and clarify whatever we are experiencing in our spiritual journey often lights the way forward. This simple but powerful practice grounds us if we are upset, in transition, or uncertain. Naming and describing our feelings, our thoughts, our reflections and even our word of the year settles our souls and aligns us with God.
"All" is defined as the whole. The total. Nothing held back.
Batterson explains that this word means maximum effort and giving God 100%. Loving God with all your heart, soul, mind, and strength. Not just worshiping God with our words and half-presence but with our blood sweat, and tears. He stresses that too often we try to do God's job when instead our job is to be faithful, rejecting all self-interest, being obedient, and surrendering fully to God. He writes, "Going all in and all out for the All in All."
His book is full of Biblical examples and very challenging ones to apply to our own lives. It's daunting to be all in for God knowing the sacrifice and suffering of Jesus and Abraham's experience of being asked to give up his son, Isaac.
The Bible story resonating most with me currently and one representing "all" is the woman and the alabaster jar.
A woman in that town who lived a sinful life learned that Jesus was eating at the Pharisee's house, so she came there with an alabaster jar of perfume. As she stood behind him at his feet weeping, she began to wet his feet with her tears. Then she wiped them with her hair, kissed them and poured perfume on them. Luke 7: 37-38
She worshipped Jesus as she was and gave him all she possessed, even her tears. I am holding the image of this story in my prayers and journaling right now.
My daily prayer is do what you need to do in me, Lord, in order that I become what you best choose for me. All. Always. All ways.
Whether you are exploring a word of the year, pondering Lent, struggling with your faith or exhausted from politics, pandemics and shattered pieces, take the time to articulate and wrestle with the words that define your experience. Journaling and talking with a spiritual director or trusted listening friend helps with this. Then ask God for an image, Bible verse, or quote to guide your forward.
May the unfolding of our lives, words, and relationships shape us and bring us closer to God.
If you have a word of the year, how are you exploring its wisdom? What do you need to define, articulate better, in your journey right now?