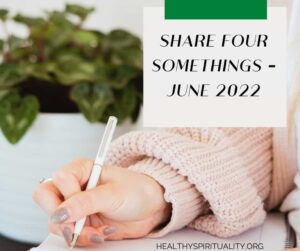 Share Four Somethings is a regular blog post where I feature bits of wisdom in four categories. 
I love this practice as it collects moments for reflection and growth. These "somethings" become markers in our spiritual journey. With so much pivoting and uncertainty in our lives right now, being grounded in a simple practice like this guides my way.
I listened to my heart and to God and narrowed down my four categories and to see what they will teach me this year.
Something Wise
Something Wonderful
Something Whispered
Something Whimsical
Each one reminds me to pay attention to these qualities in my life as gifts from God. I am learning that whimsical is the hardest one for me to capture and one that need the most coaxing to appear. This was true again this month.
Something Wise
"Hope is holding a creative tension between what is and what could and should be, each day doing something to narrow the distance between the two." 

Parker J Palmer
I am slowly learning to hold both joy and sorrow at the same time and listen to their lessons in a duet of wisdom.
Something Wonderful
We just returned from a wonderful pilgrimage to Germany, Austria, and the Czech Republic. One evening in Czech we ate at a local restaurant and enjoyed traditional music, dancing, and food. We sat on one side of the room as a group of American travelers. A few minutes later a traveling group from Poland also entered the room sitting on the opposite side.
The musicians played mostly folksongs but delighted both sets of people with a few American, then Polish songs. It was fun watching the travelers from Poland sing in full voice a song meaningful to them.
When we got up to leave, I approached the group smiling and told them, "Thank you for all your country is doing for the people of Ukraine." They understood what I said and responded. "Thank you, America, for all your help too."
Then one man stood up and hugged me. A moment of connection. Of peace. Of unity beyond borders.
A moment I won't forget.
Something Whispered
A Prayer Blessing
May God bless you with discontent with easy answers, half-truths, superficial relationships, so that you will live from deep within your heart.
May God bless you with anger at injustice, oppression, abuse, and exploitation of people, so that you will work for justice, equality, and peace.
May God bless you with tears to shed for those who suffer from pain, rejection, starvation and war, so that you will reach out your hand to comfort  them and to change their pain to joy.
May God bless you with the foolishness to think you can make a difference in this world, so that you will do the things which others tell you cannot be done.

If you have the courage to accept these blessings, then God will also bless you with:
Happiness—because you will know that you have made life better for others
Inner peace—because you will have worked to secure an outer peace for others
Laughter—because your heart will be light
Faithful friends—because they will recognize your worth as a person.
These blessings are yours—not for the asking, but for the giving—from One who wants to be your companion, our God, who lives and reigns, forever and ever. Amen.
Sister Ruth Fox, OSB
Something Whimsical
Yellow is not a favorite color of mine. I lean more to the blues, greens, and reds. But yellow smiles at me this spring in the young first flowers in my garden.  And I smile in return. A color of welcome and fresh beginnings.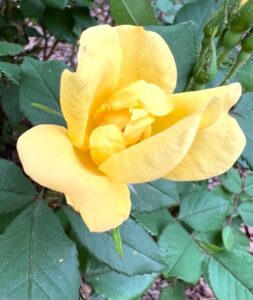 Whimsical yellow brings me joy and smiles.
I listen and learn each week from Emily P Freeman's podcast The Next Right Thing. Last week she interviewed James Bryan Smith who mentioned a spiritual writer I never heard of before – Adrian van Kaam.  I googled and you-tubed that name to learn more about this man.
One person described him as having a ministry of the smile.
What a wonderful legacy to leave! People remembering your smile.
The yellow iris reminds me to smile.
The budding roses remind me to smile.
Smiling – a way to minister to one another.
What is something stirring in your spirit this past month? What is bringing smiles to your heart?