As Jesus walked beside the Sea of Galilee, he saw Simon and his brother Andrew casting a net into the lake, for they were fishermen. "Come, follow me," Jesus said, "and I will send you out to fish for people." At once they left their nets and followed him.
When he had gone a little farther, he saw James son of Zebedee and his brother John in a boat, preparing their nets. Without delay he called them, and they left their father Zebedee in the boat with the hired men and followed him. Mark 1: 16-20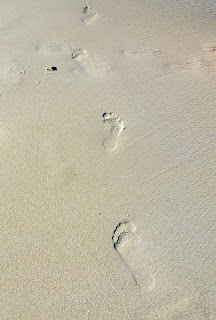 Lord that is how I want to respond to You.
At once
Without delay
No doubts
No hesitation
No maybe later
No let's talk about this
No whining about too much to do
No postponing until it is more convenient
No forgetting my good intentions
No because I have more urgent things to do
No excuses
At once
Without delay
May I pay attention and seek You in every detailed moment of my life.
May I turn and listen to You immediately when I hear You call.
May I follow You without hesitation, keeping my eyes only on You.
May I hear Your direction and follow in Your footsteps
May my hands and heart serve You whenever You ask
May my answer be "Yes, Lord, here I am," even when I don't fully understand or know where You are taking me.
At once
Without delay
I am yours.