The righteous will flourish like a palm tree, they will grow like a cedar of Lebanon;
planted in the house of the Lord,
they will flourish in the courts of our God.
They will still bear fruit in old age, they will stay fresh and green,
proclaiming,
"The Lord is upright; he is my Rock, and there is no wickedness in him. "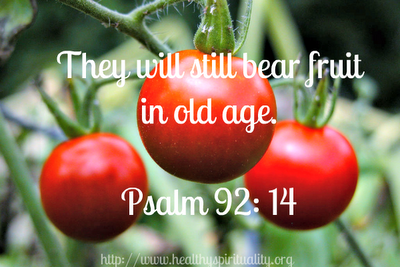 They will still bear fruit in old age
She died over a year ago, Lord, just shy of her 100thbirthday.
She may be gone, but her fragrance still lingers in my heart.
She still teaches me, Lord.
Teaches me to smile at each day.
To think and pray for others.
She still bears fruit here, though she is with You.
She bore much fruit in her old age.
Lord, I have no idea how much longer I will walk here on earth.
Illness, accident, or sudden life changing transitions may abruptly veer me off path.
I don't want to rot on the vine, Lord.
Sprinkle Your spirit upon me and nourish my roots so I bear fruit now and into my old age.
May I give more than receive.
May my smile and attitude lift another's spirit.
May others see Christ in my words and action.
May I bear fruit for You all of my days.