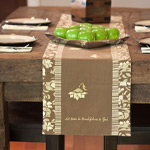 My two-year-old granddaughter, Kyla, is learning manners. Her mom won't let me respond to Kyla until she says, "Please" and "Thank you."
And I must say in all humble grandmotherlyness, a toddler answering with a exceedingly cute, "You're welcome" just warms the heart.
Growing up in a home where thanks and gratitude is expected will help her as an adult express thankfulness.
We can create thankful homes even as adults.
A few years back I looked around my house. What would a stranger know about me walking though this place I call home?
What do the residents believe?
Is the atmosphere warm and inviting?
I remember that experience when I decorate, remodeled, or hunt for just the right painting for the walls.
I look for ways to express hospitality.
November focuses on being grateful and is a great time for creating a thankful home environment.
I have a basket of fresh Honey Crisp apples on the counter. Thankful for fall harvest.
On my front door hangs a wreath – welcoming guests with the colors of autumn.
I added a new item this year – a table runner beautifully embroidered with the words, "Let there be thankfulness to God."
Its presence is a daily reminder for me to stop and give thanks.
Thanks for warm and safe home.
Thanks for laughter of family around the table.
Thanks for food we enjoy together at Thanksgiving.
Thankful for being reminded by a precious two year old to say please and thank you.
   Ever thankful to God
this month, many at a discounted price. The quality of the runner is very good and I was surprised to see it is also reversible.  I received this free product from (in)courage and Dayspring in exchange for my fair and honest review.