But he said to me, "My grace is sufficient for you, for my power is made perfect in weakness. "
 

Therefore I will boast all the more gladly about my weaknesses, so that Christ's power may rest on me.
That is why, for Christ's sake, I delight in weaknesses, in insults, in hardships, in persecutions, in difficulties. For when I am weak, then I am strong.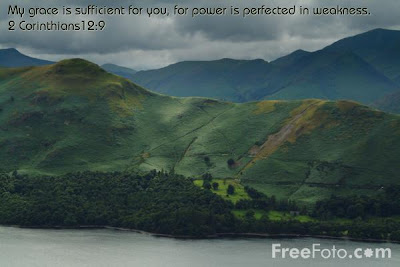 I can't do this on my own.
I try. I strive. I struggle to do my best.
I work so hard – often for me, sometimes for You.
I am too weak to get everything done.
I need You. My soul's poverty reaches out to You as the woman stretched forth her hand to touch Your hem of healing.

  
Then I hear You say gently, "But I am enough. I am the power when you are defenseless and a strength in your vulnerability."
Lord, You are the Rock and High Tower.
You are vast in my emptiness.
You are significant in my smallness.
You are the strength in my frailties and fragileness.
Lord it is so hard to wait until the day I see You clearly and understand fully the lessons from my troubles.
But I am learning each day, each moment to trust You more.
I meet You face to face in my failings.
I can delight and find joy in my weakness – because You are present with me.
Near me, never leaving me, staying by my side, nourishing me with Your sufficient grace.