Now Mary stood outside the tomb crying. As she wept, she bent over to look into the tomb and saw two angels in white, seated where Jesus' body had been, one at the head and the other at the foot.
They asked her, "Woman, why are you crying?"
"They have taken my Lord away," she said, "and I don't know where they have put him."
At this, she turned around and saw Jesus standing there, but she did not realize that it was Jesus.
He asked her, "Woman, why are you crying? Who is it you are looking for?"
Thinking he was the gardener, she said, "Sir, if you have carried him away, tell me where you have put him, and I will get him."
Jesus said to her, "Mary."
She turned toward him and cried out in Aramaic, "Rabboni!" (which means "Teacher").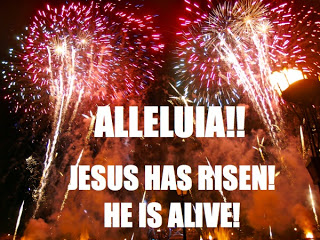 Jesus said to her, "Mary."
Oh Lord, how I would have loved to be there – that morning of Your resurrection.
To be by the tomb watching You smile at Mary, saying her name.
What was it like for Mary? I can only imagine:
   

           

 

"Was it only three days ago? No, it can't be. My heavy heart aches with every broken beat.
    

         

 

I take a deep breath, but my muddled grief clouds my thinking. I must shake off this dream – no, this nightmare. When did all this turmoil begin? Three days ago? No, it seems longer than that since they murdered him.
   

         

 

Why did they kill my love, my Jesus? I never thought this would happen. I followed him for three years, all over the countryside. I gave him everything – my resources, my time, my… my…Yes, even my heart. Now after his agonizing crucifixion, everyone has fled. I am alone with my fears.
   

        

 

Why did they do this to him? Now He is dead. And I am forgotten, abandoned. I shudder at the memory of His horrifying death.
       

" But I realize that it has been three days and I must go to the garden. He must be prepared properly for burial.

 

One last time to touch him, to help him, to be with him. One final gift I can give him.
   

       

 

"As I approach the tomb, my heart races with stunned disbelief. The stone is rolled away.

 

He is gone. Someone stole His body! I crumble to my knees, hot tears bursting from my clenched eyes. How could they do this? I rock back and forth, my arms wrapped snuggly around my chest trying to hold together my shattered heart.

 

Now they've even taken his dead body from me. Where is he?
   

      

 

"Why are you crying? Who is it you are looking for?" Looking up through my tears, a gardener stands before me.
  

       

 

"Please tell me, Sir," I cry to him. "Where is my Jesus? I can't find Him."
   

      

" One word – my name – that gentle, loving voice.

 
          

I gasped at the significance of this sacred encounter –my Jesus is alive!

 
Alleluia! Jesus is alive!
Loving Jesus, I am in awe that You know me by name.
In all my attempts to "do" things for you, You simply call my name to come and be with You.
Like Mary I think it is my effort to find You, but You are the one who is always present with me, before me, behind me and within me.

 
When I fall to my knees, helpless with my world shattering around me, I finally hear You call my name and once again I give You my heart.
Alleluia! Jesus is alive!