Patty Wysong has created a fun meme where once a week bloggers posted on the letter of the week. Check out the details here.   It is called A2Z: Take 2. A2Z as she challenges bloggers to write a post each week going through the alphabet.  Take 2 since this is the second time she has used this meme. Anyone can join in and you don't have to always participate.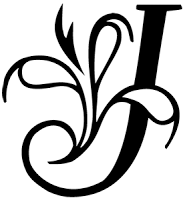 J = Journaling our Journey
I counted ten people continually carrying journals.
More than one third of the people on the silent retreat with me last weekend carried some form of journalwith them. Blank notebooks, plain or with fancy covers, spiral notebooks, sheets of loose papers – many scribbling, capturing precious moments and lessons learned in sacred stillness of the retreat.
I watch them. Prayfully they held their journals in the chapel. Slowly they recorded thoughts, prayers, verses, and experiences within these treasured pages in the reflection room. I am sure many of them wiped tears from those scribbled sheets within the privacy of their rooms.
Journals. Words are powerful. The actual act of writing words clarify, provide direction, and offer a way to sort through the junk to find the treasure.
The last morning of my four-day retreat I gazed across the quiet dining room as we ate our breakfast in silence. The only sounds were the tranquil piano hymns playing in the background and the occasional clicking of silverware. 
I shared the table with a young lady I didn't know, other than I called her in my head, "Blue Sweater." Blue Sweater slowly ate her eggs, sipped her juice, and read the same two pages of her journal over and over again. I couldn't see what she had written in her small printed handwritten that filled the pages from top to bottom, edge to edge, but she studied, actually gleaned the messages many times.
She read. Circled a word or two. Read some more.
In the middle of her page, she added parenthesis around a phrase and then drew a line from that point to several paragraphs down, uniting two thoughts.
Reading again over and over again. Then she would write squeeze in another sentence at the top of the page.  I watched her write several more words along the edge. If there was any white space left, she slowly added more memory, more depth, more insight to her journal.
She would close her eyes – I wondered if she was reviewing what wrote with Jesus.  Her writing became prayer. The dining room hallowed ground. Not only was she nourishing her body with the food that morning, but nourishing her soul with Bread from heaven.
Journals capture our fleeing glimpses of God.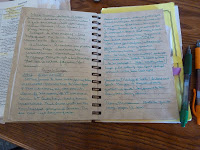 My own journal from this weekend is written in different shades of ink – sacred splashes of colors. I recorded prayers, verses, images, reflections, struggles, and joys. I am so grateful for stillness so vivid you could feel with your fingers, silence to sift through all the noise I carry with me so I finally could hear His voice and time in solitude, just to be held in His hands and bask in His love.
Writing in journals grounds and centers us. Journals help us find meaning to our experiences and weave the scattered fragments of our lives into patterns we can embrace and accept. Journals become prayer and moments of communion.
How often you write in a journal, doesn't matter – daily, weekly, or only occasionally. But each time we write, we capture a moment in time and create a significant signpost for our journey. And that can be priceless.
If you journal, how has writing helped you grow spiritually?