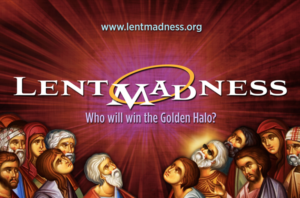 One of my favorite Lenten traditions is following and voting in the annual Lent Madness.
Lent Madness concludes this week with the crowning of the coveted Golden Halo to the "saint" who receives the most votes. This crazy fun, inspirational and educational project began in 2010 and is repeated each year.
How does it work? The format is pretty simple:
32 saints are placed into a tournament-like single elimination bracket. Each pairing remains open for a set period of time and people vote for their favorite saint. 16 saints make it to the Round of the Saintly Sixteen; eight advance to the Round of the Elate Eight; four make it to the Final Four; two to the Championship; and the winner is awarded the Golden Halo. The first round consists of basic biographical information about each of the 32 saints. Things get a bit more interesting in the subsequent rounds with quotes and quirks, legends, and even weird and unusual  saintly kitsch.
This week is the conclusion for the 2018 year and as I write this on Monday, voting is taking place for the Final Four. The winner will be chosen on the last day of voting tomorrow, February 28.
What I enjoy so much about Lent Madness is I always learn the stories of people I never heard of before and who lived inspirational lives. I thought I would share a few of these lives here today.
Who are the Final Four for 2018? Esther (yes, the one from the Bible), Maria Skobtsova,  Anna Alexander, and Richard Hooker. What do you know about them? I certainly didn't know much other than Esther.
Esther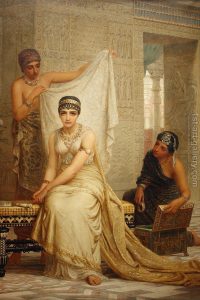 Esther arrived to the Final Four by defeating Lazarus of Bethany, Michael the Angel, and by a slim margin beat even St Peter! Quite an accomplishment.
Many of you know her story but here is quick overview of this Bible character.
In the second round of voting I learn new background about Esther such as how the Jewish people of Spain found hope in her story.
Her courage, her prayers, her listening to others to find wisdom, and awareness of "such a time as this" inspires me.
Maria Skobtsova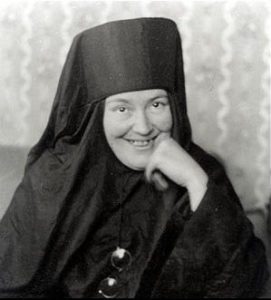 I never knew Maria's story before and it is well worth your time to know more about this woman.
Be sure to read this entry too to get a sense of her courage and devotion.
Maria Skobtsova was a Russian Orthodox nun who served in Paris during the Nazi occupation. She helped to hide Jews and helped them escaped by providing faked baptismal certificates. Later the Nazis raided the home and sent her to a concentration camp where she was killed in the gas chamber in Holy Saturday, 1945. She was a poet and a writer too, another reason I loved her story.
In the third round of Lent Madness, her story reveals this information about Maria:
"While she was in Ravensbrück, she traded her bread rations each day for a bit of colored thread, so she could continue to make art. She embroidered icons, including one of the British landing at Normandy, until she died. Her work, up until her final moments, was bringing light and joy into the lives of those around her in any possible way she could, even in the worst possible conditions. And miraculously, her final work survived the camps."
Isn't she inspirational?  She lived her faith fully to the end. What a legacy.
Anna Alexander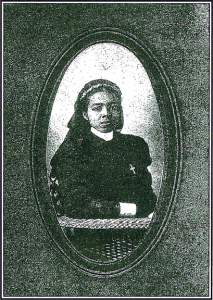 Anna was another person of faith I hadn't heard of before she was featured on Lent Madness and made it to the final four.
What I learned about Anna:
She was the first African-American Deaconess of the Episcopal Church
She lived from around 1865-1947
Her parents instilled in her a high regard for faith and education
Her father taught her and her siblings even though at that time in Georgia education for blacks was against the law.
She established an Episcopal church and school in Georgia initially meeting in an abandoned farmhouse then into an old story were they used the whiskey counter as the altar.
She raised funds for land and to expand the church and school by sewing and teaching.
She spoke up often for the rights of women and African-Americans and believed society could be changed by education and love.
She provided the means for many young people to attend college, even driving them there if they needed the ride.
Wow – Anna lived her faith as Jesus would, don't you think?
Richard Hooker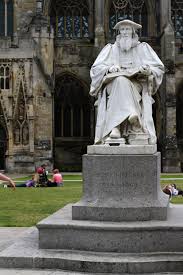 Richard Hooker was an Anglican priest and lived from 1553 to 1600 in England. He is credited to advocating more for the faith of the person than arguing over theology. He did write out for the church foundational ideas that continue to ground the Anglican faith today.
He was a calm voice in an age of great conflict among the church. He focused on what brings us together than what separates us. We certainly need more of that even today.
He wrote 450 years ago:
"There will come a time when three words uttered with charity and meekness shall receive a far more blessed reward than three thousand volumes written with disdainful sharpness of wit."
Interesting Final Four, aren't they? You can read more about the history of this fun and educational Lenten tradition here and see who has won and been part of the voting in the past.
Who would you like to see as part of the voting next year in Lent Madness? Which one of the final four would you vote to win and why?