On Thursdays in December, I will be featuring a hymn from the season and its story. I love hearing the roots of these songs as music adds so much to the holidays and to our worship. Those who sing, pray twice – St Augustine.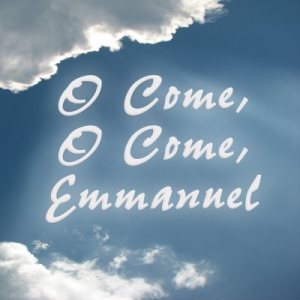 O Come O Come Emmanuel
Emmanuel – even the sound of this word evokes peace within me.
Emmanuel – "God is with us" – Doesn't that just amaze you that God Himself stays with us?
Advent is a time of welcoming, anticipation, and waiting. Our prayers rise up, "O come, please come and be with us, Lord. O come, Emmanuel."
This name, which Matthew refers to in his Gospel (Matthew 1:23), was first given to Jesus by the prophet Isaiah 700 years before His birth (Isaiah 7:14).
"
O Come, O Come, Emmanuel
" is a favorite hymn to sing during Advent. Its history originates in the medieval Roman Catholic Church. This mournful melody was originally a Plainsong or Chant, which is the earliest form of singing in the church.
It is believed that the traditional music stems from a 15th Century French processional for Franciscan nuns, but it may also have 8th Century
Gregorian

origins. An unknown author wrote seven antiphons–short lines to be sung before and after psalms. Those seven antiphons all begin with the "O," and thus became known as "
The O Antiphons

."
Just think: the people of the Dark Ages-few of whom read or had access to the Bible-this song was one of the few examples of the full story of how the New and Old Testament views of the Messiah came together in the birth and life of Jesus. And we still sing the words today, connecting us throughout the centuries to our fellow believers.
In the new hymnal at my church, notes beneath this hymn suggests singing one verse on each of the last days of Advent, What a lovely thought and way to focus our prayers each of those days. I think I will sing the verse then read the words and let them shape my heart:
December 17 – O Wisdom, verse 2
December 18 – O Lord of might – verse 3
December 19 – O Branch of Jesse – verse 4
December 20 – O Key of David – verse 5
December 21 – O Dayspring – verse 6
December 22 – O King of nation – verse 7
December 23 – O Emmanuel – verse 8
John Mason Neale (1818-1866) translated this hymn into English. He was both revered and persecuted for his desire to bring a unity of ideas between the Catholic Church and the Church of England. John's original hymns include Good King Wenceslas and Good Christian Men Rejoice.
Read these words. Rejoice in these words and music! You may want to check out different hymnals as difference translations have been made and the words slightly modified may speak to you in new ways.
May this hymn enrich your prayer and draw you closer to the One who is always with us – Emmanuel.
O come, O come, Emmanuel and ransom captive Israel, That mourns in lonely exile here until the Son of God appear.
Refrain
Rejoice! Rejoice! Emmanuel shall come to thee, O Israel.
O come, O Wisdom from on high embracing all things far and nigh; in strength and beauty come and stay, teach us your will and guide our way
Refrain
O come, Thou Day-spring, come and cheer Our spirits by Thine advent here; Disperse the gloomy clouds of night, And death's dark shadows put to flight.
Refrain
O come, Thou Key of David, come, And open wide our heavenly home; Make safe the way that leads on high, And close the path to misery.
Refrain
O come, O come, great Lord of might, Who to Thy tribes on Sinai's height In ancient times once gave the law In cloud and majesty and awe.
Refrain
O come, Thou Root of Jesse's tree, An ensign of Thy people be; Before Thee rulers silent fall; All peoples on Thy mercy call.
Refrain
O come,
Desire of nations, bind In one the hearts of all mankind; Bid Thou our sad divisions cease, And be Thyself our King of Peace.