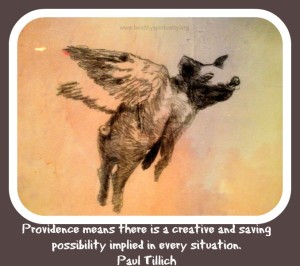 Providence is the faith that nothing can prevent us from fulfilling the ultimate meaning of our existence.
Providence does not mean a divine planning by which everything is predetermined, as is an efficient machine.
 Rather, Providence means that there is a creative and saving possibility implied in every situation, which cannot be destroyed by any event.
Paul Tillich
What do you think of this quote?  Could you write out a definition for this word? How does knowing we have a God of who controls all things help you live with courage?
I love that last sentence. It gives me hope. Let's remember these words in dark difficult times.
Here are few more quotes about this interesting word:
The march of God's Providence is slow; it's the devil who always hurries.
Russell Kirk
******
The thing about believing in God's providence is that our belief His providence exists is equally as important as our belief He will deliver on His promises. The act of believing in His promises aids the fulfillment of those very promises.
Jackie Stammen
******
God's providence is such that not only is he present in everything. He is also actively intervening in our life, especially in the little things, drawing us and everything else to himself.
Roy Cimagala
******
God's providence is always one step ahead of us.
Pope Francis
******
We can't see everything. We don't know what God is doing, except that he is at work bringing the best out of the worst and redeeming all things. The problem is, he doesn't always do this the way we think is best. God's providence is often a severe mercy.
Because we do not have all the information we cannot provide all the answers.
Dwight Longenecker
******
In all your affairs lean solely on God's Providence, by means of which alone your plans can succeed. Meanwhile, on your part work on in quiet co-operation with Him, and then rest satisfied that if you have trusted entirely to Him you will always obtain such a measure of success as is most profitable for you, whether it seems so or not to your own individual judgment.
St. Francis de Sales
We ought to contemplate providence not as curious and fickle persons are wont to do but as a ground of confidence and excitement to prayer. When he informs us that the hairs of our head are all numbered it is not to encourage trivial speculations but to instruct us to depend on the fatherly care of God which is exercised over these frail bodies.
John Calvin
So what do you think?