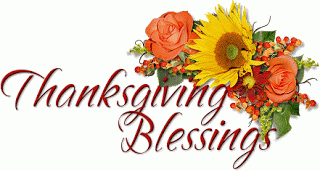 Today is the Thanksgiving in the U.S. – a time to give thanks. I am grateful for you as a reader of this blog. May my words continue to be a blessing.
Here is a thought for your Thanksgiving Day:
Be Thankful

Be thankful that you don't already have everything you desire,
   


If you did, what would there be to look forward to?
Be thankful when you don't know something

    

For it gives you the opportunity to learn.
Be thankful for the difficult times.
    


During those times you grow.
Be thankful for your limitations

    

Because they give you opportunities for improvement.
Be thankful for each new challenge

     

Because it will build your strength and character.
Be thankful for your mistakes

    

They will teach you valuable lessons.
Be thankful when you're tired and weary
    


Because it means you've made a difference.
It is easy to be thankful for the good things.

      

A life of rich fulfillment comes to those who are also thankful for the setbacks.
Gratitude can turn a negative into a positive.

      

Find a way to be thankful for your troubles and they can become your blessings.
And a few humbling thoughts:
"I murmured that I had no shoes, until I met a man who had no feet." — Persian Proverb
"Even though I clutch my blanket and growl when the alarm rings each morning, thank-you, Lord, that I can hear. There are many who are deaf." – prayer
"I do not think of all the misery, but of the glory that remains. Go outside into the fields, nature and the sun, go out and seek happiness in yourself and in God. Think of the beauty that again and again discharges itself within and without you and be happy." – Anne Frank (1929-1945)
O Lord that lends me life, Lend me a heart replete with thankfulness." – William Shakespeare (1564-1616)
He is a wise man who does not grieve for the things which he has not, but rejoices for those which he has."
- Epictetus
And lastly a great website to check out:
One of their messages is this:
If you woke up this morning with more health than illness… you are more blessed than the million who will not survive this week.
If you have never experienced the danger of battle, the loneliness of imprisonment, the agony of torture, or the pangs of starvation … you are ahead of 500 million people in the world.
If you can attend a church meeting without fear of harassment, arrest, torture, or wrath… you are more blessed than three billion people in the world, about 60% of the world population.
If you have food in the refrigerator, clothes on your back, a roof overhead and a place to sleep… you are richer than 75% of this world.
If you have money in the bank, in your wallet, and spare change in a dish someplace… you are among the top 8% of the world's wealthy.
If your parents are still alive and still married… you are very rare, even in the United States and Canada.
If you hold up your head with a smile on your face and are truly thankful… you are blessed because the majority can, but most do not.
If you can read this message, you are more blessed than over two billion people in the world that cannot read at all.
Yes count your blessings, not only today but every day.
What are YOU most grateful for today?