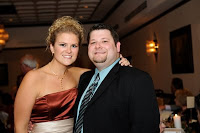 The Blessings of Two New Girls
The blessing of two new girls graced our family lately.  Our family grew by two girls this past week. Kyla Eve arrived June 5 and I wrote about her in the previous blog posting.
But now it is time to welcome Mandy into our family.
My son Brian proposed to Mandy in the infield at batting practice of the Chicago White Sox on June 6th. Mandy bravely (and as his mother I do say bravely) accepted.
I am thankful to God for Mandy, but she does not know I have prayed for her for many, many years – even before I knew her name.
I remember when Brian was a toddler, maybe two or three, nestled in my arms for a nap. That probably was the first prayer. I envisioned another mother someplace with a tiny girl sleeping in her arms – Brian's future wife – and I lifted her up in prayer.
Mothers, recall the excitement and tears of that first day of school? Another moment of prayer for the little girl someplace experiencing her first day of school.
T-ball games? 4-H camps? Proms? Driving tests? High School graduation? All times evoking prayer for his future life partner.
How did I pray? I prayed for protection, wisdom, and Godly friends. I asked that she chose wisely and learn to laugh and to love. I wanted her to develop a heart of compassion and the eyes to see Christ in others. Most importantly, I wanted her to know God and how much God loved her.
Once I met Mandy, I prayed her name. I asked the Lord to be part of Brian and Mandy's relationship and to guide their love.
"The Mother-in-law Manual – 10 Commandments for Extraordinary Mothers-in-law" is a book proposal I wrote a few year back. One of the commandments is: "Thou shalt adopt your child's spouse as your own." My heart has adopted Mandy through prayer.
Daughter-in-law – I have never liked that word. When God adopts us as His children, we are not in-laws or as many call it "out-laws," we become a part of Him.
Mandy – you are a member of this family now. I have not only a new granddaughter, but a grand-new-daughter also.