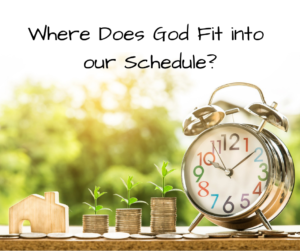 Where Does God Fit into our Schedule?
Face it. We are busy. Busyness is a badge of honor anymore – but one that wears quite thin for me.
Life interrupts. People interfere. Chores need to be done. Others want and need our presence, love, and hugs.  Saying yes and wanting to help with good intentions overwhelm our calendars. Unexpected detours arise. Emails and text messages chirp. Instant responses are the assumption. Facebook and Pinterest lure our attention and drain our time. We set goals then wake up later realizing how far behind we are doing the things that really matter.  Exhaustion and distraction rule our lives more than our dreams and deeper desires.
Where does God fit into our schedule?
This is a question I have been pondering and want to explore more now and throughout this year. My desire is to have my life, my time, my schedule built upon God, not upon the weak crumbling foundation of busyness.
Jesus didn't rush through life. I haven't found a parable describing his busyness or read the verse about him checking off this to-do list.  He spent time often with his Father. He is the model I want to follow.
I am going to try something new next week – the week of January 28.  Beginning on Monday, I will be going live on my author Facebook page at 1:00 pm Eastern for five days with a 5-days 5-ways to find time with God challenge. I will share ideas, tips and have a few free handouts.
Nothing to buy. Nothing to commit to.  Nothing to add more to your list.  I won't be asking you to join a membership site or sign up to purchase a course. Just me exploring how I am going to spend more time with God, especially with some ways to see God in the midst of this crazy hamster wheel.
Here is the link to my author page or you can just go to Facebook and put Jean Wise Author in the search bar.  I will leave up each video too so you can see them later as needed. You can watch live or the replay later.
https://www.facebook.com/Jeanwiseauthor/
Hope you can join me!
Speaking of busyness, here is some wisdom to ponder today:
"To do two things at once is to do neither." – Publilius Syrus
"You will never find time for anything. If you want time you must make it." – Charles Buxton
"There is nothing so useless as doing efficiently that which should not be done at all." – Peter F. Drucker
"There is more to life than increasing its speed." – Mohandas K. Gandhi
"Busyness also seems to be a determination not to "miss out on life." Behind much of the rat-race of modern life is the unexamined assumption that what I do determines who I am. In this way, we define ourselves by what we do, rather than by any quality of what we are inside. It is typical in a party for one stranger to approach another with the question, "What do you do?" Perhaps we wouldn't have a clue how to reply to the deeper question, "Who are you?" James M. Houston in The Transforming Friendship: A Guide to Prayer.
Hope you can join me next week.
Where does God fit in your schedule?