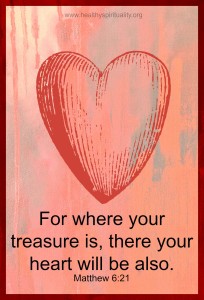 Just some words of wisdom to ponder today:
Your vision will become clear only when you look into your heart … Who looks outside, dreams. Who looks inside, awakens.
Carl Jung
Your feet will take you where your heart is.
Irish Proverb
The workings of the human heart are the profoundest mystery of the universe. One moment they make us despair of our kind, and the next we see in them the reflection of the divine image.
Charles W. Chestnut
The thousand mysteries around us would not trouble but interest us, if only we had cheerful, healthy hearts.
Nietzche
Occasionally in life there are those moments of unutterable fulfillment which cannot be completely explained by those symbols called words. Their meanings can only be articulated by the inaudible language of the heart.
Martin Luther King, Jr.
A joyful heart is the inevitable result of a heart burning with love.
Mother Teresa
Advice from a veteran trapeze performer: Throw your heart over the bars and your body will follow.
Unknown
Everyone is the age of their heart.
Guatemalan Proverb
Tears are holy, because they show us that the ice of our heart is melting.
Barbara De Angelis
Listen and attend with the ear of your heart.
Saint Benedict
So teach us to number our days, that we may apply our hearts unto wisdom.
Psalms 90:10
The human heart tells us that we are more alike than we are unalike.
Maya Angelou
"Because God has made us for Himself, our hearts are restless until they rest in Him." ~Augustine of Hippo
There is a God shaped vacuum in the heart of every man, which cannot be filled by any created thing, but only by God, the Creator, made known through Jesus.
Pascal
Start each day with a grateful heart.
Unknown
What is your heart telling you today?