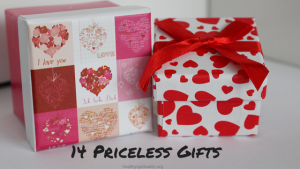 'Tis the season for gift planning, gift wishing, and gift giving. How about considering what priceless gifts you could offer this year?
The greatest gift you can give someone is your time, because when you give your time you are giving a portion of your life that you will never get back.
Unknown
Often the gifts we hold most dear to our hearts can't be bought with money.
A gift that gives twice
Is a present without a price.
Jean Wise
[bctt tweet="A gift that gives twice Is a present without a price. Jean Wise" username="Jeanwise"]
On a recent podcast, Marie Forleo stressed the difference between gratitude and appreciation.  Gratitude is the quality of being thankful. We are grateful for the things we have in our life – our family, food, home, etc.
Appreciation recognizes something great in someone else. Then to express that appreciation to them. Wouldn't that be an awesome priceless gift for someone?
"Next to physical survival, the greatest need of a human being is psychological survival – to be understood, to be affirmed, to be validated, to be appreciated."
Stephen Covey
So why not publically appreciate someone this week?  Be specific, not general. It will be a priceless gift for them.
Remember, the greatest gift is not found in a store nor under a tree, but in the hearts of true friends.
Cindy Lew
Priceless Gifts
Scientists have discovered that the small, brave act of cooperating with another person, of choosing trust over cynicism, generosity over selfishness, makes the brain light up with quiet joy.
Natalie Angier
Here are 14 priceless gifts ideas:
Your smile.
Don't take the closest parking lot.
Tell someone what you appreciate about them – give them specific examples.
Make that phone call or long overdue visit.
Let someone else have the last word.
Listen, don't fix. Give someone your full attention. Choose not to gossip or whine.
Give someone your place in line.
Pass on a compliment that you hear.
Choose kindness.
Work at a food pantry, toy drive, kettle ringing or free kitchen.
Send a handwritten note.
Play with a child.
Create a memory – take someone on a drive who doesn't get out much, copy family photos to share, bake a special dessert or a comfort food to surprise a loved one.
Share your faith. Be that hope for someone else.
The greatest gift that you can give to others is the gift of unconditional love and acceptance.
Brian Tracy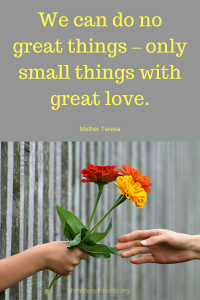 What priceless gift ideas would you add to this list?