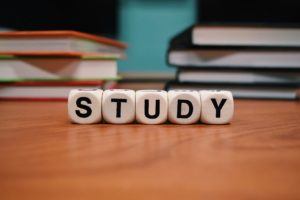 What are the 7 C's of the spiritual practice of study?
In March, we are exploring how the practice of study as a spiritual discipline strengthens our faith. Each month on my Thursday posts, I pick one theme (or person of faith) to explore deeper. I call this series Tending the Holy Thursdays.
The first two weeks we looked deeper into the practice of study and today will unpack three of the 7 C's of study:  Curiosity, Commitment, and Concentrate.
As usual I created a free download for you and this month it is something different – an infographic called "The 7 C's of the Practice of Study." You can get this infographic for your reference and even use as a bookmark at no cost by clicking on the button at the end of the post. It is my hope and prayer that this series and the download will enhance your walk with God.
Our Healthy Spirituality community is growing.  Be sure to sign up to get Healthy Spirituality in your inbox so you don't miss any of the weeks (I promise I never over send stuff to you). And invite your friends to this blog and share on social media. I sure do appreciate the support in spreading God's word.
The Spiritual Practice of Study – Curiosity
Don't you love watching a toddler explore the world? Kids have a natural curiosity, questioning and wonder attitude.
How do we lose the skill of curiosity?  How do we begin to wonder again?
As adults, we quit looking and wondering. We judge, we hurry, we complete a chore and move on. We focus more on our plans than live in the present moment. We close down to what can be discovered right before our very eyes.
Curiosity expands the mind and nourishes the spirit. Curiosity broadens our point of view and brings us joy as we learn something new. Curiosity enriches our lives with delight and wisdom.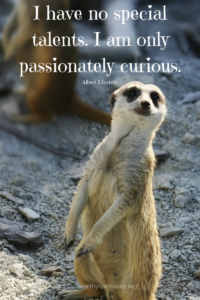 Here are three tips to build curiosity in your life:
Find questions that open your mind and apply questions as a daily practice:  What if?  What does this make possible? What would happen if…? In your daily interactions, is there something new to ask that person you encounter?
Observe something new each day. Write what you see as new again in a journal. What adventures wait for us every morning.
Find a topic that interests you and learn something new.  Two years ago, I wanted to know more about the Desert Mothers and Fathers. I found a few good books, purchased a notebook and scheduled an hour once a week (to be honest I didn't always keep that appointment with myself but did many weeks) to read, take notes and go deeper with this topic.  I am still learning about them even today.
Exercise curiosity daily.
The Spiritual Practice of Study – Commitment
Now that you are cultivating curiosity as a practice, commit to plan time to study, play, and explore.
Block time on your calendar for a study time, a trip to the museum, to read. Get a basket for books to read and a notebook and favorite pen ready.
Strive for a daily dose of discovery.
Forgive yourself if you forget and start again.
Set a goal: I will learn more about _________ by the end of July.
Journal about what holds you back from learning.  What blocks your way?
Embark on a learning adventure with a buddy.
How will you commit to study in 2017?
The Spiritual Practice of Study – Concentrate
As I grow older and society gets noisier, my concentration decreases. Anyone else notice that?
I found I read better holding a book, not my kindle, and using a highlighter – the physical act of using the pen on the page helps me focus and reread a sentence I want to remember.
I started keeping a notebook this year so all the notes I take from a webinar are in one place. I concentrate and remember a book I read better when I summarize its contents and take at least one nugget to chew on by writing it out in another notebook.
Rewriting the info in a notebook is a form of repetition – a great technique for improving concentration. This process also slows me down – another concentration booster.
Some people do well with music or white noise in the background; I need it quiet to concentrate.
Here's a good article about training your mind for concentration.
We can teach ourselves to concentrate better.  It takes practice, practice, and more practice.  Here is a great article with tips for strengthening our concentration muscles.
What tips helps you to concentrate?

Next week I'll feature the remaining C's. Don't forget to download the infographic about the 7 C's of the Practice of Study by clicking on the button below.
The first three of the 7 C's of practice of study are curiosity, commitment and concentration. How will you work on these traits the coming weeks?  What would help you the most as you explore the practice of study?