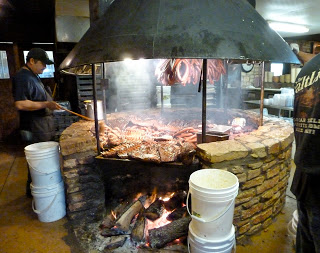 Of course you read them to find out what food a restaurant is offering, but ever notice the other information on some menus?
Last week's vacation took us to the Salt Lick Bar-B-Que in Driftwood Texas. Mmmmm, good! Great food with wonderful company.
But it was the story told on the menu of the founders Thurman and Hisako Roberts that inspired me the most.
Thurman traveled most of the time working in construction while his family stayed in Driftwood. They really wanted to stay in that little town so "one day, he took out a yellow legal pad and wrote down 54 things the family could do to stay in Driftwood. The idea for The Salt Lick was 14thon the list."
They started small and have grown the business that now is a family affair serving thousands each week. The restaurant has been featured on the Food Network, The Travel Channel and the Today Show.
But did you catch his plan? He created a list of 54 ideas and worked through them to number 14. This is a great lesson in creativity and perseverance.
Ever hear of the Power of Six theory?  The human mind easily remembers five items. The short-term memory capacity for most people is between five and nine items or digits – thus we have seven digit phone numbers. 
We have to dig deeper when listing more than five ideas. We become creative!
Thurman made a list of 54 ideas to solve his problem – that is enormous. If we would approach any decision with that type of list, I dare say answers would be found.
What if we wrote out 54 ideas to deepen our prayer life?
40 new small group ideas? 
What would happen if we dreamed up 25 new ways to tackle poverty in our community?
15 new ways to spread the gospel?
12 innovative approaches to healthier families?
For writers, write out 10 story ideas.
Or 9 characters descriptions. 
Or 7 conflicts for the plot.
Creating a list of multiple dreams, answers, and possibilities usually will contain the best solution.
Julie Andrews said, "Perseverance is failing 19 times and succeeding the 20th."
I don't know for sure if Thurman failed 13 times and the BBQ was his 14th attempt. Maybe he skipped around his list. Maybe this was his 25thout of 54 on his list to try, but the point remains he kept going.
According to the history on their web site, the family first irrigated a field and truck farmed, selling produce to local grocery stores. They also made candies, raised pecan trees and had a shelling business.  
Thurman gives us a lesson on perseverance.
When things go wrong as they sometimes will;
When the road you're trudging seems all uphill;
When the funds are low, and the debts are high
And you want to smile, but have to sigh;
When care is pressing you down a bit-
Rest if you must, but do not quit.
Success is failure turned inside out;
The silver tint of the clouds of doubt;
And you can never tell how close you are
It may be near when it seems so far;
So stick to the fight when you're hardest hit-
It's when things go wrong that you must not quit."
Thurman modeled wonderful creativity that inspires me to spent more time imagining possibilities. His restaurant is an example not to give up, to keep trying and to start small and build.
I left The Salt Like Bar-B-Que with a stomach full of great food and a heart overflowing with hope. 
What helps you be more creative?