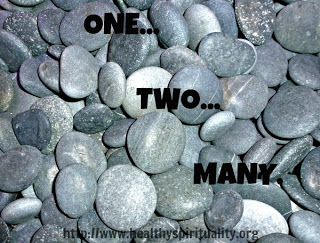 The Warlpiri are a group of Australian aborigines who have a simple way of counting.

 
Their words for numbers are "one, two and many."

 
I read that last week and that phrase really stuck with me. I laugh because when someone asks me how many years I have been married, I either answer "many" or have to quickly subtract in my head. Quick hand me a calculator!
I think even Erma Bombeck would have liked the Warlpiri's method of counting when she wrote, 
"One thing they never tell you about child raising is that for the rest of your life, at the drop of a hat, you are expected to know your child's name and how old he or she is."
I listened this week to what I count:

 
Things I am thankful for.
Yep, the Warlpiri are right.
One sin, two sins, then many more.
One excuse, two excuses, and so many more.
One item to be thankful for, then two appear, and wait: many, many more.
Is it just me or is this beginning to sound like a Dr. Seuss tale?
I guess we could play with these words and say easily we have, "One two (too) many sins and excuses."

 
"Many" is a simple word meaning an indefinite number. I think its use is more poetic than a left-brain exact calculated number.
Sometimes we focus only on one type of sin or think two kinds are worse than others. Sin is sin. And we have many sins.
Our minds become numb to our many excuses. Unless we deeply listen we miss the many times we lean on false reasons.
We grow in gratefulness when recognizing the many small touch points of thanks we experience. We number what we are grateful for each day, joining Ann Voskamp in creating a list of 1000 things we notice each day. Once we reach that enormous level, we continue to count to "many."
I am glad God isn't a bean counter of all our sins and excuses. I am grateful for His many acts of love and many moments of grace. He forgives many times. He loves indefinitely.
I think God may just agree with the Warlpiri and count:
One, two, and many.
What do you think?