Patty Wysong has created a fun meme where once a week bloggers posted on the letter of the week. Check out the details here.

 

It is called A2Z: Take 2. A2Z as she challenges bloggers to write a post each week going through the alphabet.

 

Take 2 since this is the second time she has used this meme. Anyone can join in and you don't have to always participate.
This fun meme has now progressed to the letter T. The letter T starts my answer to the question: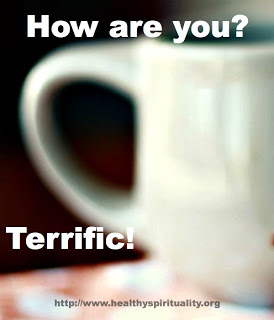 We all do it. We pass each other with the causal, not expecting an honest answer, to the question of "How are you?"
I read recently some blog conversations challenging us to answer honestly. To stop and really listen.

 

I wonder how many of us answer exactly how we feel. Do we in truth want to slow down and hear someone's reply?
To be honest, I am not feeling well.

 
Or I feel alone and abandoned today and cried myself to sleep last night.
Or even I can't believe you are asking me when I know you really don't care or don't have the time to listen anyway.
I know I should listen closely and compassionately when asking that question of someone else.

 

Even when someone answers the standard "Fine" I know the non-verbal tone of voice often indicates otherwise. That is IF I chose to listen closely.
"How are you?" is a sacred, intimate invitation into another person's soul.
How do I answer that question?
"How are you, Jeanie?"You ask.
"Terrific!" I respond.
I started to answer that question a number of years ago with this energetic, positive reply of "Terrific!"I love how people react to my enthusiastic answer.
·

     

Many people stop with surprise at my answer. I giggle when I hear the silence, anticipating the often-asked following question, "Do you really feel that way?"

 

I tell them I learned a long time ago I am either terrific or trying to work myself back to that level. Either I am up or climbing up.

 
·

     

I find I become more optimistic when I respond this way and truly begin to feel Terrific even on gloomy days.
·

     

Not only does it affect me, but also others will smile in return after hearing my answer. My answer lifts their mood too.

 
·

     

Is it really being honest? I do believe so. I am sincere in my decision to live this way: choosing a positive outlook. I have learned to listen to my self-talk. If I say and tell others I am tired, then I feel more tired.

 

If I say I feel Terrific, I begin to feel better.
·

     

Terrific is contagious. I like leaving a trail of joy and enthusiasm behind as I walk through my day, instead of the despondent droppings of doom.
So I challenge you to try being Terrific and see if it makes a difference in your life. It did in mine.
How do you respond to the question of "How are you?"