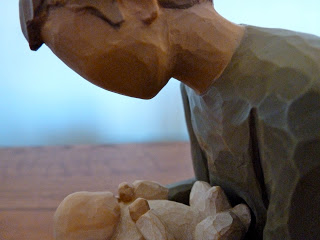 For all who are led by the Spirit of God are children of God.
For you did not receive a spirit of slavery to fall back into fear, but you have received a spirit of adoption. When we cry, "Abba! Father!"
it is that very Spirit bearing witness with our spirit that we are children of God,
and if children, then heirs, heirs of God and joint heirs with Christ–if, in fact, we suffer with him so that we may also be glorified with him.
At the time I feel abandoned, unloved,
Whenever I wonder if anyone really cares,
My Abba, my Papa, wraps His arms around me and cradles my heart.
I am not defined by my roles.
Where I live, what I look like and how much I make, means little.
My Abba, my Papa created me as His child.
Lord, Your fingerprints are all over my soul.
Your mighty spirit ignites with my minuscule core, lighting the fire of life.
My breath, in slowly, out gradually, mirrors the steady rhythm of the beating of Your heart.
You are the One; we are one together.
Forever genetically connected, but even deeper, fused with love.
Papa's love for me, His child.