Above all, trust in the slow work of God. 

We are quite naturally impatient in everything to reach the end without delay. 

We should like to skip the intermediate stages. 

We are impatient of being on the way to something unknown, something new. 

Yet it is the law of all progress that is made by passing through some stages of instability and that may take a very long time. 


And so I think it is with you. 

Your ideas mature gradually.
Let them grow. 

Let them shape themselves without undue haste. 

Do not try to force them on as though you could be today what time
– that is to say, grace –and circumstances acting on your own goodwill will make you tomorrow.
Only God could say what this new Spirit gradually forming in you will be. 


Give our Lord the benefit of believing that his hand is leading you, and accept the anxiety of feeling yourself in suspense and incomplete. 

Above all, trust in the slow work of God, our loving vine-dresser. 
Amen.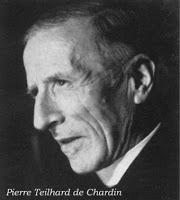 Pierre Teilhard De Chardin
wrote these words – words I have often read and pondered.
I get so caught up in the everyday rush and hassle of life – my eyes, and really my heart, racing out into the future, rarely embracing the present.
I am too often not content where I am now, wanting to "skip the intermediate stages" and get to the final performance. Confession – I have been known to peek at the last pages of a novel while still just starting the story.
Teilhard de Chardin was a native of France and a Jesuit priest who died in 1955. He trained as a paleontologist and even participated in the discovery of Peking Man.

 

I think it is interesting that as a priest and a paleontologist – he appreciated the long view of life.
  

-the appreciation of the gentle unfolding of the next stage
      

– the pausing to value each moment as a new birth
           

-the allowing each new thought, idea, and prayer its time to simmer into the fullest flavor.
This gives me hope in times when everything crumbles around me. Maybe the collapse is not death and destruction at all, but the walls bursting open with new life – like a cocoon spliting apart so the butterfly is set free. Or the crush of the outer husk of the seed so the new bud can grow. Or the shedding of the shell so we can stretch and grow in a new, larger home. Perhaps my worries, problems, and fears are not endings, but beginnings.
I live incomplete – a work in progress, yet I trust God will someday finish his handiwork.
Transformation occurs step by step – that is the nature of God; that is the slow work of God.
Nature does not hurry, yet everything is accomplished. ~ Lao Tzu