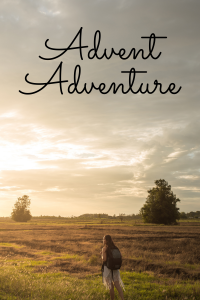 Advent is here and I am ready for an adventure.
Advent is the four weeks before the celebration of the birth of Jesus. November 29 was the first Sunday in this season this year and on our online church service, we lit the first of the four candles surrounding the white Christ candle. The candles symbolize joy, hope, peace, and love.
I dug out my home Advent wreath and began with the first candle here too.
This time before Christmas is a time of anticipation and waiting for the gift of this holy season. If we pay attention, God will surprise us with his presence. If we wait in stillness, we will find him in unexpected places like a manger in Bethlehem.
I like the concept of adventure too. An adventure means to take the chance and enter into an exciting and possibly lifechanging experience. The word adventure comes from the Latin word 'adventurus' meaning 'a thing about to happen'. I am ready to cast off 2020 and move forward into new direction. "A new thing about to happen" being created and blessed by God.
Advent is the start of the new church year too. Fresh beginnings. Letting go of the past.
Advent earns straight A's this year. Here is what I mean as I practice this ancient church season with a hungry and deepening desire for renewal.
A – Accept Advent. I recognize this IS a new year and beginning and Advent readings and themes frame my mind and inspires my heart. Theme such as hope, joy, faith, light, and love.  I come with open hands, ready to receive. Adventure often means to take a risk, to step out of our comfort zone, to leap into the unknown with faith in God who is guiding us. Not only am I willing to do take this step with God, I need to – oh, how I desperately need Advent.
A – Anticipate Advent. I love the word anticipation. A word full of energy, momentum and hope. I am starting a new practice that I am calling GO – G for grace and O for observation. Where each day am I observing grace? I am taking note of these moments and gathering them on paper and in my heart.
A – Actively Abide in Advent. I will intentionally engage in Advent through prayers, devotions, and readings. I will soak up this season, allowing its richness to sooth my weary bones. There are plenty of wonderful Advent devotions to enrich your season (here is the link to one I wrote just in case you might want a copy)
A – Adore the Almighty Anchor – This season, really all time, all life is about God. Not me. Not you. God. I will fix my eyes on Jesus, the author and perfector of my faith. (Hebrews 12:2) The Christmas hymn Oh Come all ye Faithful rings true to me this year. Come, let us adore him – Christ the Lord.
Advent adventures awaits.  Will you join me?