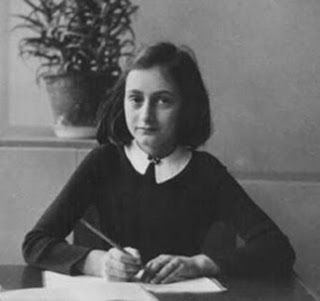 Anne Frank
wrote one of the world's most famous diaries.
Since I keep a journal, she, of course, has to be one of the women I mention during Women's History Month.
On a sad note, March is also the month of her death from typhus while in a concentration camp in 1945.
Many of us know her story:
Born on June 12, 1929,
Anne Frank
was a German-Jewish teenager who was forced to go into hiding during the Holocaust. She and her family, along with four others, spent 25 months during World War II in an annex of rooms above her father's office in Amsterdam, the Netherlands. After being betrayed to the Nazis, Anne, her family, and the others living with them were arrested and deported to Nazi concentration camps.
She died in March 1945, just a few weeks before the camp was liberated.
On Anne's 13th birthday, her father gave her a small cloth covered book with a lock on the front. It was meant to be an autograph book, but Anne decided to use it as a diary. Three weeks after her birthday, the family was forced into hiding.
In March 1944, Anne and her family in the annex heard on the radio that diaries and important documents would be collected after the war as a record of what had happened to the Dutch people.
Anne immediately set about editing and revising her diary.
A true writer knows rewriting is as much as a part of the process as writing
.
They were arrested in August of that same year and deported to Auschwitz.
Friends found Anne's papers and kept them safe.
Lots of lessons in Anne's story: the hopes of a teenager, the tremendous tragedy of the Holocaust which we can never forget, and the value of recording our thoughts, dreams, and prayers in a journal as a legacy for the others.
Selected quotes from Anne Frank:
In spite of everything I still believe that people are really good at heart. I simply can't build up my hopes on a foundation consisting of confusion, misery and death.
Everyone has inside of him a piece of good news. The good news is that you don't know how great you can be! How much you can love! What you can accomplish! And what your potential is!
How wonderful it is that nobody need wait a single moment before starting to improve the world.
The best remedy for those who are afraid, lonely or unhappy is to go outside, somewhere where they can be quiet, alone with the heavens, nature and God. Because only then does one feel that all is as it should be.