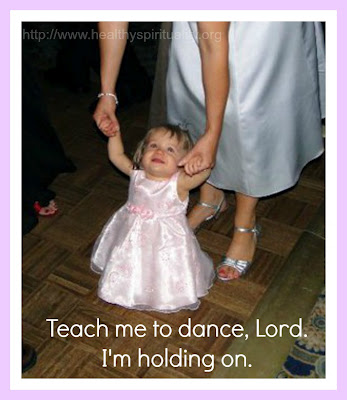 This Ignatius Life is one of my favorite blogs to read.   I enjoy their world view and challenging posts.
Here is a portion of what she wrote:
"You have to love the daily working," suggested choreographer Merce Cunningham. He was talking about what it took to be a dancer — not a teacher, researcher, writer, mother or contemplative, or in my case, all those things tangled into a single day. He meant you have to enjoy being crammed into a studio taking class with forty other students, that you have to delight in the doing of the hundred-thousandth plie. You have to be willing to lovingly and gratefully return to the basics each and every day, even — and perhaps most particularly — in the midst of chaos, or you cannot dance."
Dancing in the everyday nitty-gritty of life. For me this means finding the joy in the sometimes-tedious details of the life of a writer, a speaker, a retreat leader, a mother, a wife, a spiritual director and a nurse. 
So hard to see the whole picture at times, isn't it?
I put on my practice shoes and sit at the computer digging deep for the right words. 
The daily work of praying some of the same prayers for years- knowing God does hear me, but I don't comprehend His timing. 
Finding delight in the sacred moments in my garden or playing the bubbles in this dish water, holding hands with my husband, hearing one of my grandkids voices and feeling their tiny arms around my necks in their toddler/preschool love hugs.
This is life. This is daily work. This is my dance studio. This is where I find God.
"We live life like ill-taught piano students. So worried over the flub that gets us in Dutch, we don't hear the music, we only play the right notes."
These quotes encourage me to savor the basics daily workings of life.
I choose to keep my eyes on Jesus and grasp His hand on this wild adventure.
I choose to hear the sacred music every day, every moment. 
"To watch us dance is to hear our heart speak."  Hopi saying
How do you dance in the moments of life?