This is the last post about what I am learning about being a cloud chaser. I hope you have enjoyed pondering the clouds with me. I appreciate your comments and insights.
Meteorologists tell us that every cloud contains a weather message. God sculpts all types of clouds as messengers of hope from Him to help us weather the storms in life.
Join me: Become a child once again and capture the wonder as a cloud chaser. God's canvas shows us surprises every day if we just take the time to look up, look inward, and look beyond our ordinary day-to-day drudgery.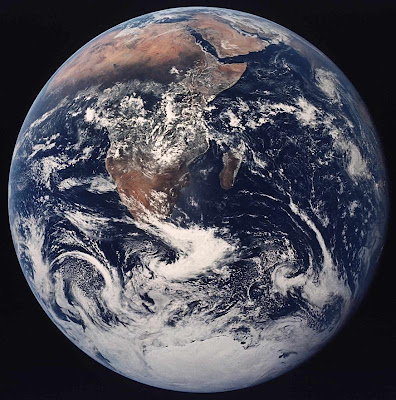 Earth from space, Apollo 17 mission. Credit NASA/Goddard Space Flight Center, Scientific Visualization Studio. Source: http://svs.gsfc.nasa.gov/vis/a000000/a002600/a002681/index.html
Cloud chasing reminds us to look beyond our momentary problems and negative emotions.

 

We find hope in knowing the sun does still shine on days when can't see its light.
Looking beyond into the Beyond helps me to focus more on God and less on the downside of life.
Here are some random thoughts as I ponder the clouds beyond:
·

     

I love the photograph above of the "big blue marble" – earth from outer space.

 

The astronaut's eyes see the cloud from both sides. Holding this view in my heart from beyond helps me remember that the sun shines even when I cannot see it.
·

     

Judy Garland once remarked, "Behind every cloud is another cloud." Life feels that way at time. Nimbostratus clouds, low-level clouds, coat the earth like a heavy winter coat.
Persistent snow or rain days depress us. Without much light dark, ragged clouds hang over us like a shroud. These clouds are not impressive. We don't stand on the beach with our camera saying ooh and ahh for this type of cloud.

 
The average rain cloud is like the just average day. But would we do without average days? Miracles do exist in the routines, we just don't see them. Like the interesting details of the tear drop shape of a rain drop, we often have to look closely to appreciate the beauty on even dull days.
"Rain is grace; rain is the sky condescending to the earth; without rain there would be no life." John Updike
·

     

I live in an area where fog descends and often doesn't leave for days. In northwest Ohio, school sometimes is cancelled more for fog than snow. Fog days offer many lessons. For example fog is actually a cloud coming down to earth, symbolic of how God came down to earth as Jesus.
·

     

"He made darkness his covering, his canopy around him – the dark rain clouds of the sky." Psalm 18: 11. Watching clouds at night by the light of the moon or stars highlights their features in a whole new way. Here the formation and height of clouds seen in a dimmer reflection of lights streak across the sky like ghosts. Nighttime brings rings round the moon, auroras boleros, and even heat lightening. Scientists have photographed images of noctilucent or night shining clouds. Even in the dark, the clouds still hold lessons.
·

     

 

Ever watch the clouds and study their layers? They look like an onion or the rich sweet layers of baklava. At first you may not notice the tiers. We think they are only boring sheets of same color until we look again. Often there are puffy white clouds against grayer background called Stratocumulus. Like warm of layers of clothing against a cold wind they serve a purpose.

  
I will close today and this series with an Irish blessing for all of you:
"I believe in the sun when it's not shining, I believe in love even when I feel it not. I believe in God even when he is silent." Irish blessing.