This is a third post of what I am learning about being a cloud chaser.
Meteorologists tell us that every cloud contains a weather message. God sculpts all types of clouds as messengers of hope from Him to help us weather the storms in life.
I have been exploring clouds for a possible book proposal and want to share with you over a series of posts some of the lessons I have discovered by becoming a Cloud Chaser.

 
Join me: Become a child once again and capture the wonder as a cloud chaser. God's canvas shows us surprises every day if we just take the time to look up, look inward, and look beyond our ordinary day-to-day drudgery.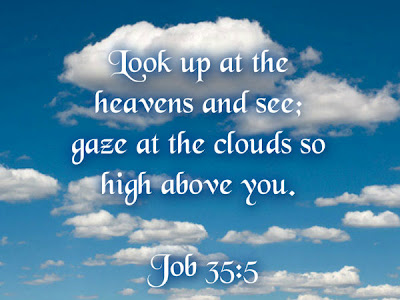 Looking up
    

Cloud chasing involves looking up, a physical act of raising the chin which alone may be enough to life the spirit and provides a momentary pause by focusing on new possibilities instead of our problems.
Here are lessons I am pondering when I look upward:
 

1.

 

Clouds have been called "Billboards of Coming Attractions." How do clouds forewarn us of changes to come and what can we learn from them? Navigators read them to predict weather to ensure safe passage, a good lesson for us all. What is God gently telling me that is my next step?
Weather forecasters can't predict too far into the future so maybe I should quit trying to figure out the final destination and just enjoy today's weather with the hint of tomorrow's tucked into my heart.
2. Cirrostratus clouds are delicate lacey high cloud layers of ice crystals. Bending light rays create a halo affect that some call cloud smiles. These whimsical grins from God come from a light above us to illuminate our direction toward our dreams and give us hope.
3. Cloudless days also hold lessons. Blue sky thinking is innovative brainstorming of all the possibilities that could occur. Weather is always changing so when you have a blue sky day, make the most of it.

 
4.

 

Just like life, clouds are in a constant state of transformation. Just like trouble, clouds often come in groups, layers and heaps. A cloud chaser observes a wall of clouds begin to gather in the horizon and learns its message to become attentive. Stratocumulus clouds are low lumpy layers of clouds that cover the sky but if you watch, you will see breaks in the clouds where the sun peeks through.

 

The Son is always there whether we see Him or not.
5. Look up and see flocks of wooly sheep? I think most of us have spent time in Nephelococcygia – or the adventure of looking up at the clouds and seeing the shapes appear like animals, faces, castles, or anything the imagination brews. The Cumulus clouds are everyone's favorite – the fair weather clouds – that looks like flocks of wooly sheep or gigantic balls of cotton.
 

"Look up at the heavens and see; gaze at the clouds so high above you." Job 35: 5
Look up today.

 

What did you discover in the clouds?