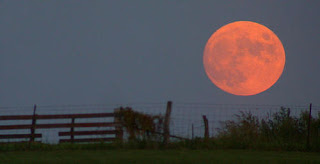 I hope many of you do not have cloudy skies this week. At 11:09 p.m. Eastern Time Wednesday evening, fall began and God is outdoing Himself this week presenting a "super harvest moon."
The "harvest moon" is the full moon that happens closest to the yearly autumnal equinox, or the time when day and night are equal in length each September. The harvest moon phenomenon was named for farmers who used to depend on the moonlight to extend the workday during the busy harvest season. With the harvest moon there is no long period of darkness between sunset and the moon rising.
But for the super harvest moon to occur, the two events must fall on the same night. When these two occurrences mix together, sky-watchers are treated to a sort of 360-degree twilight glow effect that is rarely visible. The so-called super harvest moon has not occurred for 20 years, and will likely not reappear until 2029.
When the Sun starts to set on the Western horizon, a full moon will rise opposite to it on the East, reflecting the light of our home star. Being close to the horizon, the orange Moon will be gigantic thanks to a psychological effect called the Moon illusion. The sky will be illuminated by the Sun and the Moon at the same time, creating a weird 360-degree effect that is rarely seen.
I love looking up at the sky. Watching the cloud dance, the stars flicker, meteors streak, and now the moon rise in her majesty – encourages me. 
Just think –  the One who really is in control is the God who loves to create in such grandeur, yet knows the number of hairs on our heads at any given time. He smiles at the ants getting ready for cooler weather, the antics of the dolphins delighting in His sea and enjoys the giggles of the toddler splashing in her bath water.
God loves to thrill us with His majesty and this week's full moon is evidence of His love.
Enjoy His show!
What do you like best about looking up into the heavens?