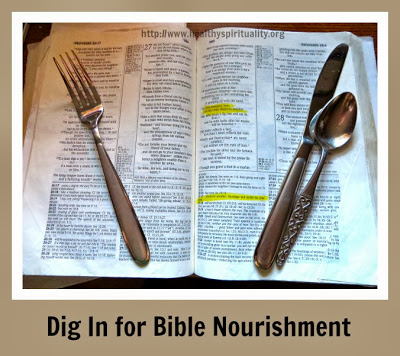 The Center for Bible Engagement reports that the number one thing you can do for yourself spiritually is to read the Bible four times a week or more.
Australian researchers found that if pastors could only do one thing to help people of all levels of spiritual maturity, grow closer to God, they should encourage Bible reading.
Most of us are blessed to own several copies of Bible. Do we read them?
Do we dig into verses? Do we allow these living words to dig into us?
Lectio Divina
Lectio Divina means sacred reading. The art of lectio divina begins with cultivating the ability to listen deeply, to hear "with the ear of our hearts" as St. Benedict said.
Take one or a few verses of the Bible. Read the slowly, listening deeply.  Be open to what God is saying.
Read the verses a second time, allowing one word or phrase to penetrate our thoughts and minds.
Read the verse one more time and talk with God about why these words resonate with your spirit.
Slowly read the verse a fourth time and rest, listening to God.  Allow Him to lead you in your prayer and thoughts about these words.
Bible Study
There are lots of ways to read the Bible: follow a Bible reading plan, attend a class, read one book and research its background are just a few approaches.
Having a set time each day (well, most days) for prayer and Bible reading also helps. I can honestly say I read my Bible and daily devotions on a regular basis, but not always on a daily basis. I won't fall to any guilt imposed by some unwritten rule of daily Bible reading because life just doesn't always cooperate to allow that. BUT I will intentionally plan for some time in God's word on a regular basis.
After reading certain passages, I ask myself questions such as What word or phrase strikes me, and where does it take me? What stories or memories does this passage stir in me? What scares, confuses, or challenges me in this passage? What delights me in this passage or fills me with hope? What is God up to in this passage?
Try a different translation. I love comparing the words from different point of views.
Keep trying. I find I have more time now to dig deeper than I did when I worked fulltime outside of the home and was raising kids. Different seasons offer unique opportunities to discover God's word.
Mark Twain once wrote, "It ain't the parts of the Bible that I can't understand that bother me, it is the parts that I do understand."
I am finding the slow reading, letting the living word of God change my heart, has brought me closer to God.
How about you? What helps you read the Bible more?  How do you get regular Bible nourishment?