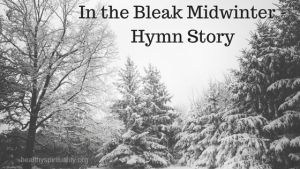 Quick quiz:  Do you know the hymn "In the Bleak Midwinter"?
Do you know who wrote it?
This song called to my heart this Advent, so I thought I would explore it. Come along with me.
Often when a word, phrase or like this a song resonates in my heart, stirs my spirit, invites me closer – I pay attention. I talk with God about it. I sit quietly, holding the gift in my open hands, listening to its lesson or just enjoying its presence with its Creator.
Who Wrote "In the Bleak Midwinter"?
Poet Christina Rossetti wrote the words of this hymn. She lived from 1830 to 1895 and originally published this as a poem called "A Christmas Carol."
Rossetti never married and lived quite independently. She used her poems and words to bring attention to issues of the day, such as slavery, animal experimentations and sexual exploitation of young women. She was often sick and without much money, but devoted her life  to her family, her faith, and ministry with former prostitutes.  Quite a calling I would say.
About 12 years after her death, the words appeared for the first time in The English Hymnal attached to a tune by composer Gustav Hoist. We have sung this hymn basically in the same form since it first appeared in 1906.
In The Bleak Midwinter Lyrics
Take a moment and read the words of this hymn.  If you can, read them out loud and prayerfully.
In the bleak midwinter
Frosty wind made moan, 
Earth stood hard as iron, 
Water like a stone: 
Snow had fallen, snow on snow 
Snow on snow. 
In the bleak mid-winter, 
Long ago.
Our God, heaven cannot hold him 
Nor earth sustain; 
Heaven and earth shall flee away 
When he comes to reign: 
In the bleak mid-winter 
A stable-place sufficed 
The Lord God Almighty 
Jesus Christ.
Enough for him, whom cherubim 
Worship night and day, 
A breastful of milk, 
And a mangerful of hay: 
Enough for him, whom angels 
Fall down before, 
The ox and ass and camel 
Which adore.
Angels and archangels 
May have gathered there, 
Cherubim and seraphim 
Thronged the air – 
But only his mother 
In her maiden bliss 
Worshipped the beloved 
With a kiss.
What can I give him, 
Poor as I am? 
If I were a shepherd 
I would bring a lamb; 
If I were a wise man 
I would do my part; 
Yet what I can, I give him – 
Give my heart.
Enjoy this You Tube version.  If you are reading this post by email, I hope you take the time to come to the blog and check out the video:
Praying the Words of In the Bleak Midwinter
Here are a few thoughts about these words rambling through my soul:
Snow in Bethlehem?  I don't know the climate well over there, so at first wondered about the accuracy of this scene. But then I thought poetically about what she was trying to say: Jesus came into a cold, hard, and desolate world with the beauty of calm, peace, and quiet. We all need this during the rush and craziness of the holiday. Those experiencing loss and having a difficult time finding the joy in Christmas, can find hope and comfort in this setting.
In the second stanza I am reminded that neither heaven or earth can contain the majesty of our God. He is always More. Yet he still comes and stays in our ordinary lives such as a stable.
What love and tenderness rises from the third and foruth verse.
That last verse is the one I have heard before and remember the most. No matter what is going on in our lives, how stressed we are, how drained our resources are, how empty we feel – we can still give our hearts.  And that is the best gift.
What does this hymn stir in your heart?  How does music add to Advent for you?