And he took the children in his arms,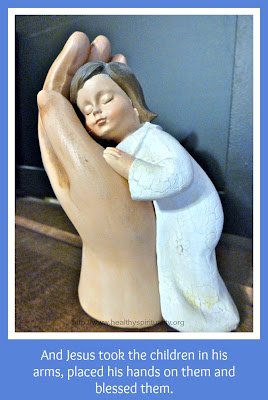 What a tender moment, Lord.
You welcoming the littlest ones into Your kingdom.
You pausing from the main task of the world to greet, bless and love children.
Or did You really pause?  Break from Your primary purpose?
Or did You come to earth to wrap Your arms around each of us?
To remind us You love and accept us as we are, immature, misbehaving, delightful children of God?
Lord, let me rest in Your arms today.
When the world crashes around me and buries me in its rubble of hate, misunderstandings, wars and lies, I need the peace found only in Your embrace.
When fear takes my heart and angry occupies my mind, I run to You for Your healing touch.
When my path is dark, confusing, and full of potholes and detours, Your hand gently guides me.
May I spend the rest of my life, as a child, in Your embrace.