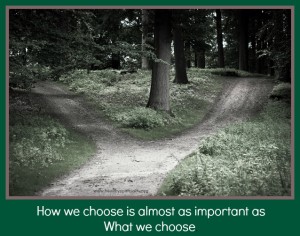 "As surprising as it sounds, how we choose is almost as important as what we choose.
Most of our choosing comes as a response to superficial desires or as an act of willpower and resolve. Neither is helpful in choosing to open ourselves to the Divine.
Choosing God is choosing life just as all true choosing of life reflects choosing God.
But neither life nor God can genuinely be embraced by willfulness and determination. They can only be received in openness and willingness."
Dr. David G. Benner
When I read this quote the other day, I knew I had to copy it into my journal. How we choose is almost as important as what we choose- words that convicted my heart.
Too often my decisions arise from my emotional reactions to a need or want. I revert back to my default mode – what is easiest, most comfortable and many times, just plain out of habit.
I know I make decisions from a place of stress, fatigue, hunger, wanting to be accepted. Then I conclude something is wrong with me that I can't change the "how," even though I know the Who is more important. The urgent immediate gratification controls me more often than the wait and chose better option.
Then I get angry with myself for the result of the decision. I chose to eat a second helping or indulge into chocolate cookies (note the plural of cookies). I speak up when I should have kept my mouth shut. Or say "yes" to another demand on my time instead of praying first and asking God to help me decide. Then I kick the scale, my calendar, and my self-confidence the next morning, lamenting I will never change.
I am slowly, v.e.r.y slowly, learning to pay attention with discernment at all levels of my life. To wait. To listen. To ask for help from God. From others.
That is the "how" in choosing. Not to rush into more to do's and to fill up with so much food and stuff, I don't have the space for God. I am starting to rest my palms downward as an act of emptying before the King in joyful surrender. I wait in openness – at least some of the time.
I know many of us battle with the ever-present "control" issue. Our egos make it so difficult to fully surrender to God's will. Even when we genuinely want to be open and obedient, the lure of asserting our own will drives our choosing.
Do not be in a hurry to leave the king's presence.
Ecc. 8:3
This verse lately also resonates in my heart. It reminds me to stay kneeling before our Lord listening, not rushing into my decision making based on the how's of ego, ease and emotion.
Edwina Gately says it best:
We are so hungry!
There is such a deep unmet longing in us
That we are driven to erratic and anxious enrollments
In seminars, retreats, and workshops
On myriad themes of spirituality, healing, wholeness
And even miracle making!
Millions of us are searching for a spiritual jumpstart
Or an instant divine fix.
But our journey begins in spiritual infancy
And unfolds and grows
Through our everyday life experiences,
It is all right to be hungry.
It is alright to want more.
But it is God who feeds the waiting heart.
We must be empty vessels,
Not afraid of the very emptiness.
We must wait-
Ever gentle with ourselves-
Until God scoops us up and comforts us.
Let's discuss these quotes and the issues of how we decide impacts our discernment. I would love to hear from you!