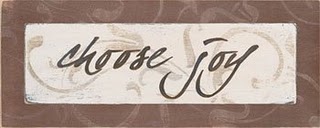 A great local Christian radio station is
WBCL.
(You can listen to them over the internet too.
click here
)
As I drove to Ft Wayne yesterday, I turned to WBCL for their 9:00 talk show, MidMorning. Much to my surprise they played music instead of dealing with a subject matter. I enjoyed two tunes, then Lynne Ford, the host, came on laughing. Apparently the author she lined up to interview that morning forgot and was not available.
"Good thing we talked about gratitude last week," Lynne said. "No matter what happens I am choosing joy."
The next hour's show was a delight as listeners shared the experience with reading the bible and the radio giving away numerous copies of God's word.
Choosing Joy.
Lynne had no idea her perfectly planned Monday morning would change, but she made the most of it and listening that day lifted my spirits. I am sure her attitude blessed others too. Joy became contagious beginning with Lynne and radiating to many people including me.
We do have that choice in life, even when we are sinking powerlessly in circumstances we would never chose. We can choose joy.
Joy is what makes life worth living, but for many joy seems hard to find. They complain that their lives are sorrowful and depressing. What then brings the joy we so much desire? Are some people just lucky, while others have run out of luck? Strange as it may sound, we can choose joy. Two people can be part of the same event, but one may choose to live it quite differently than the other. One may choose to trust that what happened, painful as it may be, holds a promise. The other may choose despair and be destroyed by it. What makes us human is precisely this freedom of choice
.
Henri J. M. Nouwen

Sometimes joy surprises us in unexpected ways such as giving away Bibles on a radio show and hearing how the word of God affects so many people.
Sometimes joy bubbles up uncontrollable like listening to a toddler's giggles of delight.
Or sometimes we have to dig to find buried joy.
This past week's gospel lesson from Luke 21: 9- 15 overflowed with doom and gloom, but buried once in the middle and towards the end was hope.
This difficult reading about complete collapse of things we count on as undestroyable, being overcome by situations out of our control such as earthquakes, wars, disease and being betrayed by people we trusted and loved such a family and friends at first is depressing.
True gratitude is not based on our circumstances and what we are experiencing, but comes from a deep-rooted understanding of God's grace and mercy.
God is good. Even when life is not good, God is good. We can choose joy even when it is buried.
Have you thought about anticipatory joy? With the upcoming holidays, I found myself more with anticipatory anxiety with family schedules conflicting, mounting to do lists, and disappearing time.
Thinking about joy this week made me realize I had the ability to select a healthier attitude as Advent begins. From now on I am choosing to enjoy this season of our Savior's birth. I am trying anticipatory joy!
Joy doesn't just happen. We choose daily what attitude we will carry on our journey. Filling my heart with joy is much lighter than the burdens of anxiety and worry.
Join me? Let's choose joy!