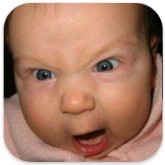 Okay, I failed. 
My great intentions in the previous post to choose joy quickly evaporated amidst the muck of annoying frustrations.
No major crisis occurred. I have friends who buried their 21 year old child/grandchild this week and another one whose daughter may be having a miscarriage – true joy zappers. On a whole, blessings filled my week so far.
Yet an undercurrent of anger and frustration – not joy- ruled my heart.
Little nuisances like waiting for an appointment that ran an hour and half late, a near miss with a deer darting in front of my car, being stuck behind a semi truck chugging along at 40 mph in a 55 zone, not getting answers from a customer service representative, and the never ending too many things on my list to do and not enough time.
Looking back, joy left me not because of one incident, but because of many minor aggravations. They surrounded me like a swarm of those tiny flying bugs you bat about with your hand on a hot summer evening. Yuck! Like flecks of mud, they splatter my window to the world and soon all I could see was a messy, dreary brown view.
Irritants
Nuisances
Joy zappers
What did I learn?
1.
Choosing to live joyously is not as easy as I thought.
2.
Living aware of what is stirring internally helps me to gauge how I am reacting. If I had listened to some of my self-talk earlier, I would have realized I was allowing some pebbles to become obstacles. "
It isn't the mountains ahead to climb that wear you out; it's the pebble in your shoe."
3.
Actually practicing joy – smiling for example – helped me to relax and regain balance. And the more I looked, chose and practiced joy, the easier it became to be joyful.
4.
Praying, I asked God's joyful spirit to teach me and guide me in this desire. I have much to learn.
5. True joy looks up and sees the entire picture, not focusing downward at the tiny ruts in the road.
Each day I start again. I wipe the incidental joy zappers off my smeary window and choose joy as my perspective. The view on life is better this way anyway.
What little things zap your joy?