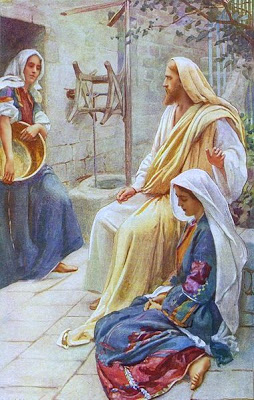 Now as they went on their way, he entered a certain village, where a woman named Martha welcomed him into her home.
She had a sister named Mary, who sat at the Lord's feet and listened to what he was saying.
But Martha was distracted by her many tasks; so she came to him and asked, "Lord, do you not care that my sister has left me to do all the work by myself? Tell her then to help me."
But the Lord answered her, "Martha, Martha, you are worried and distracted by many things; there is need of only one thing. Mary has chosen the better part, which will not be taken away from her."
Mary has chosen the better part.
Lord I love this story about your friends, Mary and Martha.
Often I feel like I am both of them.
I welcome you into my home.
I open the door of my heart to you, excited to be with you, then I busy myself with the details of life, ignoring your presence.
Sidetracked by my to do lists, detoured by my doubts, focused only on my ego driven wants and desires, and consumed to accomplish something, I never think to stop and enjoy you. 
Mary chooses the better path.
Mary sits at your feet listening, learning, loving you.
Mary's heart and Martha's hands. 
One occupied with you, the other preoccupied.
One still, the other fidgets with the trivia.
One comes to you empty; the other so full nothing more can be taken in.
Lord I know there are times you need me to be Martha, serving you with the work you have given me.  Help me find and keep the balance of duty with devotion, pursuits with prayer, and accomplishments with adoration.
Offset my Martha and equalize my Mary so I can choose the better part – You.