Looking for the miracle and magic of Christmas? Leave behind the hassle and hustle of being rushed this season and spend a few hours with your family enjoying a Christmas movie.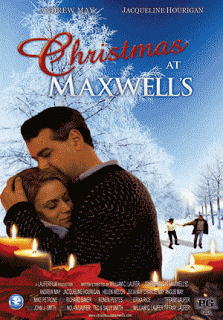 I recommend watching Christmas at Maxwell's.
I met Tiffany Lauffer at a writer's conference a few months ago and we immediately became friends. As we got to know each other, she shared that she produced, along with her father William, this movie. How cool is that!
Not only is this a good Christian family story, but Christmas at Maxwell's is also a Dove Foundation Award winning holiday film filled with messages of faith, hope, and love.
The movie features the Austin family and the tremendous changes they are experiencing. Andrew Austin has everything – two amazing children, a successful business, and a wonderful wife.
But life and a past secret bring change and in an instant, life no longer has the order and gentleness it once held. His wife, Suzie, becomes extremely ill and as Andrew struggles to find answers, his children Chris and Mary quietly search for their own. Facing a hectic holiday season, the family retreats to their summer home on Lake Erie to celebrate their last Christmas in peace. Away from the demands of the city, their world opens up to a moment in time they will never experience again as their small lakeside community brings them new wonderments. Christmas at Maxwell's is an inspirational romantic drama, a love story about human struggle, the power of forgiveness and unending faith in the beauty of life.
This is a powerful story of family love. Filmed in Ohio, I enjoyed seeing and recognizing local scenery, too. The acting is great also.
Three ways you can see this movie:
1.

    
Order a copy from Amazon or from their web site.
2.

    
Watch the movie on the Trinity Network. According to Trinity's website all the following times are Pacific times and subject to change:
12/2 – 1 am
12/17 – 11 pm
12/18 – noon
12/23 – 8:30 am
3.

    
Thanks to Tiffany's generosity I am giving away a DVD of
Christmas at Maxwell's.
Leave a comment below this post between now and Sunday December 5 at 5 pm (eastern time) and I will draw one name at random. Contest is only open to U. S. and Canadian residents due to having to mail this out.
Rest, relaxation, and spending time with the family is a wonderful way to renew the spirit, so take a break this crazy holiday season and watch a movie. Christmas at Maxwell's will give you a renewed appreciation of family, friends and the magic of this time of year. Enjoy!