This is the second in my series about Contemplating Winter – trying to find spiritual lessons in my least favorite season. You see, I am NOT a winter person. I dislike winter so much I rank it about ten on the list of four seasons. But I do know God sends us lessons in all experiences if only we are open to hold them for a while in our hands and hearts. What is winter showing me this year? "Contemplating Winter" will be the focus on my blog posts on Tuesday in January. Come and ponder this season with me.
"Hear! hear!" screamed the jay from a neighboring tree, where I had heard a tittering for some time, "winter has a concentrated and nutty kernel, if you know where to look for it." 
 

~Henry David Thoreau, 28 November 1858 journal entry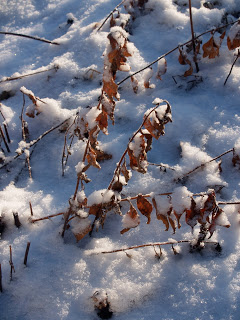 COLD
I pondered the word COLDthis morning. No wonder I don't like it. Think of all the negative associations with this word:
Cold sores
Cold feet
Cold-blooded
Cold war
Cold case
Cold shoulder
Cold sweat
Cold turkey
Brr – being cold is laden with emotional downheartedness. How depressing. I can't help myself when I think of being cold to let my feelings sink into dark pessimism. Just the mention of the word I shiver and withdraw.
That is really stupid of me – letting what society says about a simple word cloud my opinion of a season and drain my joy. I am allowing myself to react to its initial meaning without dwelling deeper into its gifts.
Cold represents some good characteristics too.
Cold can be healing. I put on a cold compress to my sprained ankle to help it mend quicker. Or sooth my irritated eyes with a cool cloth. Winter coldness is time to rest, push my spiritual roots deeper and to heal.
Cold preserves food.
And who would eat hot ice cream, right? I wonder what I need to preserve and protect spiritually in this time of year?
Cold is refreshing. Don't you love sipping ice-cold water when your throat is parched? Or breathing cool crisp air in after being shut inside all day in artificially heated environment? Lord, my faith is dry and brittle and I thirst for Your Living Water.
Cold build gratitude. To be honest try as I can to like winter, I do appreciate the warm weather of spring. I am grateful though, for furnaces that work, workers cleaning the roads, and bright winter sunshine during the day.
Coldness brings sharper perspective. The winter stars at night seem to shine clearer and brighter. Lord, open my eyes to see your world in divine clarity.
Cold makes me cautious. I slow down. I am more careful walking or driving on the snow. I think I enter prayer more reverently during winter at this slower pace. Now that is a new insight for me, as I never realized that before!
The word COLDtakes on new meaning in my heart now. Next time I feel a bit chilly, I will the embrace and be thankful for its blessings. Maybe this winter gift is worth holding for a while.
What does the word COLD mean to you?