On Thursdays in December, I will be featuring a hymn from the season and its story. I love hearing the roots of these songs as music adds so much to the holidays and to our worship. Those who sing, pray twice – St Augustine.
COME THOU LONG EXPECTED JESUS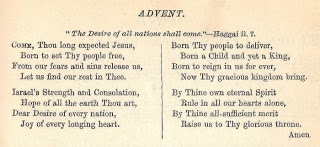 Charles Wesley
wrote 7500 hymns! One of them is this week's featured advent hymn story. You can hear it here:
Come, Thou Long Expected Jesus.
This hymn was first published in 1744 as part of small collection of poems called "Hymns for the Nativity of our Lord." In 1830 Welshman Rowland Prichard put the words to the tune "Hyfrydol" which means "good cheer."
Take the time to read and ponder the words. The first verse stresses that Jesus' coming fulfilled Israel's deep yearning for the Messiah.
I love the word in the second verse, "Born a child and yet a King." That line alone is enough to empower my Advent devotional time with Lord.
Come, Thou long expected Jesus
Born to set Thy people free;
From our fears and sins release us,
Let us find our rest in Thee.
Israel's strength and consolation,
Hope of all the earth Thou art;
Dear desire of every nation,
Joy of every longing heart.
Born Thy people to deliver,
Born a child and yet a King,
Born to reign in us forever,
Now Thy gracious kingdom bring.
By Thine own eternal Spirit
Rule in all our hearts alone;
By Thine all sufficient merit,
Raise us to Thy glorious throne.
How do these words speak to you heart?