I wrote a post earlier this month about the importance of cultivating connections in life. (click here to read that post) A fellow writer and internet friend, June Maffin, sent me a very kind email in response and shared a similar post she wrote in 2010.  She graciously allowed me to share her words with you today.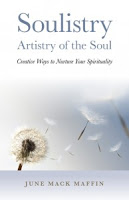 Dr. June (Mack) Maffin was raised in Montreal and presently lives on Vancouver Island in British Columbia, Canada. She has just completed her third book:
"Soulistry
-Artistry of the Soul: Creative Ways to Nurture your Spirituality."
I reviewed her latest book earlier this year.
click here for review.
Soulistry is available in both paperback and e-book format through www.amazon.com and local booksellers. Check out
her web site
too.
Thank you, June, for being here today and sharing your words:
Community: Making a Soul-Connection
I first heard the words from Sarah in a small northern Alaskan village where I was serving as a consultant with the Episcopal Church. The tiny, elderly, native woman spoke them slowly and carefully, all the while looking directly in my eyes. "How deeply you are connected to my soul, June."
I was taken aback. Deeply humbled by her words, I was thinking that this was "not your common-ordinary-everyday conversation with a stranger. " And yet, at that moment, I could feel it. I could feel the connectedness we shared and knew, even though we were cultures apart and our differences far outweighed our similarities, this at-one-ness with each other was real. At that moment, our souls had connected.
One of the songs I learned in the tiny wooden building in the Alaskan bush, reinforced Sarah's words: "How could anyone ever tell you that you're anything less than beautiful?. How could anyone ever tell you that you're less than whole? How could anyone fail to notice that your loving is a miracle? How deeply you're connected to my soul." (words and music source: unknown)
Though I was the stranger in her remote village, and our customs, language, traditions, life experiences were alien to one another, something (SomeOne) indelibly linked us together. In that moment, the word 'community' took on a new meaning and I realized how it is possible for two people, who on the surface have little in common, could have a soul-connection.
As I watch and listen to the growing angst over the building of a community centre and mosque in New York City; as I watch the listen to the growing rhetoric expressed by people who don't tell the truth about the President of the United States (contrary to their protestations, President Obama *was* born in the United States; he *is* an American citizen; he is *not* a Muslim); as I watch and listen to the growing intolerance by people who don't believe as they do, I can't help but wonder and ask "Why can we not make a soul-connection with one another?"
Geese fly in formation – one bird in front, creating a draft with its wings so that it's easier for those behind them, to follow. When the lead bird tires, it flies to the back and another takes the lead.  When one of the birds is tired or ill, it is accompanied to the ground by another bird until it is ready to join the rest of the group. What is it that has these birds care for one another so deeply?

Image via Wikipedia
Wouldn't it be wonderful if human beings could be like geese and care for one another – truly care – to the point that we affirm one another, encourage one another, support one another rather than hold onto resentments, anger, continue to spread untruths, make assumptions be that on the political scene, in work-related environments, between friends, among family members?
A diminutive elder in a small isolated village in Alaska gave me a gift.  A gift that has stayed with me for decades.  "How deeply you are connected to my soul" she said.
Sarah was right. We were connected at the soul-level. And, that soul-connection is one that extends to everyone I encounter be that in person or in cyberspace be they family, friend, enemy, stranger, politician, able-bodied, a different race, nationality, religion, atheist, gay, unemployed etc.
When will it be time for those who speak or think ill of another; those who wound others with their words or thoughts; those who teach people to hate and fear; those who tear-down rather than build-up, to recognize that we are all part of the same community — the human community? That doesn't mean we must agree with one another. It does mean that we respect one another. When will we be open to making a soul-connection … not only thinking/saying, but believing "how deeply you are connected to my soul."
What do you think about when you hear the phrase soul-connection?