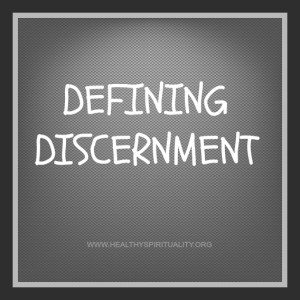 I met with a new client last week who was seeking a spiritual director. I always schedule one meeting when starting with a new person just to talk about spiritual direction and clarify expectations.
I mentioned one reason people seek spiritual direction is in the time of discernment. He asked me to define discernment.
I told him I thought discernment was discovering and articulating how God is moving in our lives. We listen deeply together to identify how the spirit is guiding us in live.
Once home I was curious how others define discernment. Here are some definitions I found.
Discernment is a spiritual understanding and an experiential knowledge of how God is active in daily life…Discernment is faith living and listening to God's love and direction so that we can fulfill our individual calling and shared mission…The purpose of discern is to know God's will, that is , to find accept and affirm the unique way in which God's love is manifest in our life.
Henri Nouwen.
"The place where God calls you to is the place where your deep gladness and the world's deep hunger meet."
Frederick Buechner 
"God does not exist to answer our prayers, but by our prayers we come to discern the mind of God."
– Oswald Chambers
"Discernment is not a matter of simply telling the difference between right and wrong; rather it is telling the difference between right and almost right."
– Charles Spurgeon
Discernment is the skill of understanding and applying God's Word with the purpose of separating truth from error and right from wrong.
Tim Challis
Discernment in its fullness takes a practiced heart, fine-tuned to hear the word of God and the single-mindedness to follow that word in love. It is truly a gift from God, but not one dropped from the skies fully formed. It is a gift cultivated by a prayerful life and the search for self-knowledge.
Ernest Larkin
"Discernment means to separate, distinguish to determine and sort out…Discernment is sifting through our inner and outer experiences to determine their origin – whether they are the voice of our ego or the Spirit."
Diane Millis
To discern mean more than to understand or to make a decision. Dis mans apart and cernere mean to separate. Thus from all the options before us we 'separate apart' those that seen uniquely suited to us. We do that when making a decision as well but discernment implies that we take God's will for us into account rather than simply our own desires.
Debra Farrington
Do you have a favorite definition or insight into the word discernment? Let's explore this word together.