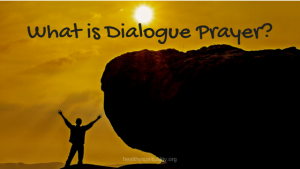 Ever hear of the Dialogue Prayer?
I attended my annual silent retreat a few weeks ago. The spiritual directors for the retreat offer us guidance and ideas to deepen our experience of God during our time there – one suggestion was to use Dialogue Prayer.
I have journaled for years. I often write out my conversations with God – my hopes, concerns, fears, etc.  I also have recorded what I think God is inviting me to go, to do, to be.  But I have never used this formal technique before.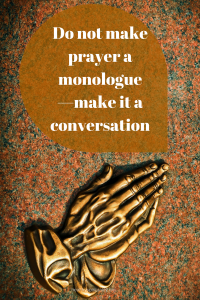 What is Dialog Prayer and How It Works
Dialogue prayer reflects the basic definition of prayer – a conversation with God. What is different is the format when writing out the prayer.
The entire process is bathed, submerged in prayer. Solitude and silence joins on this holy ground too.
On my retreat, my dialogue prayer looked like a dramatic script for a play.
I imagined sitting with God, often on rocking chair on the front porch of a cabin, and we talk. One retreat we sat on a picnic table on the side of the road near an intersection I would soon cross. Another time we lingered by a soothing bon fire.
I pick up my pen and write in the following format:
Me:  my question, response or complaint/whininess (Who me? Grumble to God?  Bellyaching to the Divine?  Griping about a nuisance?  YIKES – yes, I am guilty of this, but that is another post. I get pretty raw and honest with the Lord most of the time. Helps me to be vulnerable and open to his lessons.)
God: His response, his leading to go deeper.
M:  more…
G: more…
M: more…
G: more…
I found it helpful to focus on a specific topic on which I desire clarity, direction or affirmation. I usually have a question to ask. Sometimes God surprises me and takes the whole conversation in an unexpected track. (he IS in control, you know LOL)
Don't worry about grammar and spelling. Relax and just write freely.
I begin to write – not thinking with my head, but allowing the words to flow from my heart, unrestricted. Often, I am amazed what appears on the paper and even more astonished when I reread it later and discover more wisdom beneath the words.
My Experience with Dialogue Prayer and a Few Limitations
On the last full day of retreat, I realized I hadn't talked with God about my writing and my ministry at church. In past retreats, I often sensed a guidance and/or affirmation about my work that I hadn't received yet this time.  God oversees my retreat agenda, but I thought this could be an opportunity to try dialogue prayer.
I started with prayer. Quiet prayer. Deep breaths. Then I picked up my pen and journal and wrote out a dialogue.
Me: This writing I do. It takes lots of time and busyness, stuff, details. Is this still where you want me?
God: What do you know?
Me: I know you earlier affirmed my call as a writer. I get excited and love to work with words. It's creative. It flows. It's work, but it matches the gifts you've given me.
G:  Does it still fit?
M:  Right now yes or at least I want it to fit. It really does not feel like it's time to leave it yet.
G: Then this is your work. Not your center or your value. Your work. You are where I called you. Stay the course.
I note how I feel as I write these words out. Peaceful? Loved? I felt both.
Words flow, not forced. The writing feels natural, not artificial. God often answered in questions and simple phrases.
My caution about dialogue prayer is it could be become what I want to hear, not really God's leading. That is why prayer first, open and willing heartset and solitude and silence are essential in the process.
Of course, anything one would learn, sense, and discern in this type of prayer should hold up in the light of community affirmation, spiritual direction, scripture, and ongoing deepening with God.  I could imagine someone experiencing some mental health issues could be misled in this type of prayer.
The rereading of the dialogue at a later date also reveals more wisdom and insight.
I would use this approach to prayer again on retreat or quiet day.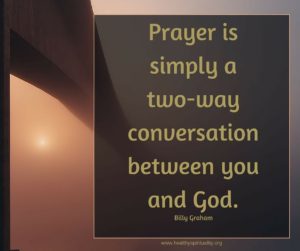 Speaking of retreats, I value this spiritual practice so highly I wrote a book to encourage others to attend retreats to deepen their experience with God.  Spiritual Retreats: A Guide to Slowing Down to Be with God is available on Amazon.
Another newer practice I am adding this year is the rhythm of quiet days. When I can't get away for 3-4 days for retreat, I am scheduling at least quarterly a half day quiet day. I plan to read, pray, and journal that day.  I have had to be very intentional – finding a day my hubby would be gone so the house is quiet. Planning ahead on the calendar – marking that time out early and then being very guarded to keep that time sacred and not let life, busyness and urgency take it away.  Will let you know later in the year how this practice is working.
Have you ever used dialogue prayer? What do you think about this way to pray?