Discernment.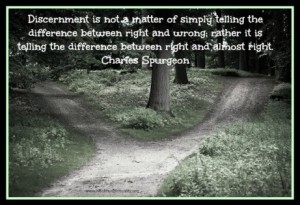 Discernment. I believe we all want to make the best decisions whether they are major life changing ones or discerning how to best live in everyday life. Facing a difficult time of indecisiveness and confusion twists our guts and fogs our faith. How can we live and thrive and grow as discerning people?
Discernment is the theme for April's Tending the Holy Thursday posts where I pick one topic to explore more deeply throughout the month. This week we will explore what discernment is and what it looks like.  The following weeks will be tips, the nitty-gritty on practicing this much needed skill, then some quotes and lessons about discernment.  May this deepening topic help you through those difficult transitions and just plain daily choices.
What is Discernment?
Discernment is more than decision making. To discern in Latin means to discernere  – dis = apart and cernere = to separate. We make a choice but as believers we take in all the meanings, consequences, and God's will into the decision.
We take the options apart, we sift and sort, we listen with deep heart.
We often think of discernment in the major, life-changing decision in life and rightfully so. Should I marry that person? Do I take that job? What if my situation gets worse, what then?
But I am learning to be a more discerning person in the everyday circumstances too.
"Christian discernment is a practice and a gift from God.
The object of this practice and gift is to come closer to God in all our actions, in all our decisions, and in everything we do."
Elizabeth Liebert
As you may have noticed this blog post is arriving late this week to this spot. I have had a battle with the stomach flu all week and am thankfully getting bette,r but very behind. Wednesday evening, I had to chose – be late with these words or take care of myself. I chose self-care and went to bed. Did the world end? Did this tiny decision change lives?  Not really, I took the process I will be sharing next week through all the steps and the guilt of not meeting my self imposed deadlines vanished.  As I write this, it sounds simple, but at the time I did have difficulty deciding what to do. Practicing discernment gave me permission for the best decision and clarity for my next step.
The Practice of Discernment
The world and our minds overflow with voices – others tell us how we should feel, what success means, what we should want for our families, expectations often beyond our means.  Inner desires bubble up and need attention and nurturing – some stemming from our ever-protecting ego and others coming from a God planted deep desire. I find sometimes the best decision is simply to ask what does my gut tell me to do.  (HA! With the stomach flu this past week, my gut told me to go to bed!!)
This is what I believe:  "Discernment is the sorting/sifting through all our desires, voices, wants and needs bombarding our soul and choosing what is best draws us towards God."
  [Tweet "Discernment is the sorting/sifting through all our desires, voices,wants &needs bombarding our soul & choosing what is best draws us towards God."]  
Discernment is more than choosing between right and wrong; it is listening to God and our own heart in deciding what is best. Not just good, but best. Discernment brings clarity and light to those gray areas where to be truthful, most of life resides.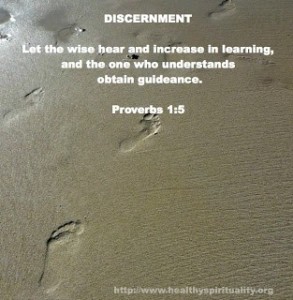 Many spiritual practices need to be put into action daily and intentionally. I find the more I remember to live as a discerning person, the more I carefully chose wisely and with God. This may slow down the process – I like to make quick decisions and get on with the action – a long time habit from being a nurse and an administrator – but am surprised how in reality, I am really not losing as much time as I anticipating living a discerning life.
How we decide major changes or even the little things in life varies. Sometimes the path is clear.  Sometimes the way shows itself with a little thought, prayer and discussion with wise friends. Sometimes we are left so confused, frustrated and torn, we become paralyzed. Discernment can be hard work but practicing and that is a key word – practicing it intentionally, open to God's guidance, and willing to follow his lead will eventually filters the best approach.
Living with questions when we want clear answers is messy, occasionally conflicting and takes courage to persevere through God's gentle unfolding, evolving and shaping in our lives. I compiled "21 Questions to Help You in the Practice of Discernment" and you can get this list free by clicking on the button below.
Click Here to Get the "21 Questions to Help with Discernment" Free Report
I am wondering how do you define discernment and how have you used this practice, especially in daily life?  Let's discuss this important practice!