"Go into the village ahead of you, and immediately you will find a donkey tied and a colt wither; untie them and bring them to me…The disciples went and did as Jesus had directed them; they brought the donkey and the colt and put their cloaks on them."
Mathew 21: 2,7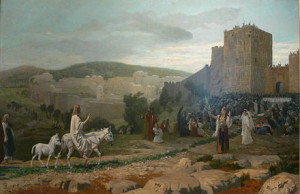 Wait, Lord, there were two donkeys? A mother and a colt?
Lord, I love it when something new pops out of your Word and pokes my spirit, waking me up.
Why a mother and her colt?
I know the Old Testament prophesized about riding on a colt, but I never imagined two donkeys that day. 
I wonder if they were frightened.
I wonder if they knew.
I wonder if Jesus whispered into their ears, thanking them.
Is there a meaning to two donkeys?
Learning to sharing celebrations with others?
Learning to help to carry burdens with others?
If I were God you would have entered Jerusalem as a King – in a regal carriage or on a prancing stallion.
But you knew better, Lord. You knew how the story would soon unfold. How the crowds would turn against you. You chose to bring your son into Jerusalem riding on a symbol of peace, not war.
Two donkeys untied that day. I wonder what I need to untie today and let go off to honor Christ? What am I battling instead of giving over to peace? Where am I entering in riding on pride and power, not humility and grace?
Thank you, Lord for always teaching, even using the two donkeys to nurture my time and prayers with you. 
Your living Word stirs Hosannas from my heart.