March is Women's History Month or should I say Women's Her-story Month.  The Tuesday and Friday posts this month will feature women who lead lives that could serve as models for us in our Christian walk. It was difficult to narrow the list for the few dates in March but I did try to find some women you may not know very well and women writers.  Enjoy!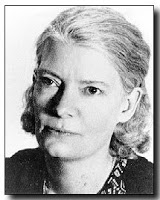 I wrinkled my nose and shook my head in disbelief as I read the life of
Dorothy Day
.
This is going to be a very long two years studying the life of this woman so different from me. Maybe I should switch to another inspirational spiritual person.
In the first year of my two-year program to learn to be a spiritual director, each of us chose someone from history to be our spiritual mentor. We studied their lives. Read books about them. Gave presentations about how they discerned God in their moments and how walking with someone of faith changed our own spiritual journey.
My instructor suggested
Dorothy Day

to me. I recently found information about my great Aunt Anna whose life paralleled Dorothy's, so at first she sounded like a good idea. But as I learned more about Dorothy's early life – she was nothing like me.
Please let me switch to someone else.
Dorothy's life reflects some of the major events in the 20th century. As an eight year old, she and her family were in San Francisco during the great earthquake. She said later she began to learn compassion as she watched her mother care of others injured and homeless after that terrible disaster.
Later as young writer/journalist, she lives the bohemian wild life of the 1920s – with drinking, smoking, hanging out with anarchists, Socialists, and Communists. She got pregnant and had an abortion. She walked in protests with women suffragists and was arrested. She later lived with another man and had daughter out of wedlock.
Why am I spending time with this person?
Have you ever read the
Hound of Heaven

? The poem describes how God continual searches for us throughout our lives and wherever we stray.
Dorothy loved this poem and how the Hound of Heaven weaved His love into all the threads of her life. Her family rarely attended church, though she occasionally participated in some practices. She looked back and even in her darkest times, God still loved her and waited for her to return.
The birth of her daughter changed everything and when she decided to have Tamar baptized, her common law husband left.
Dorothy made the choice – she would live for God.
Mmmm, maybe I could learn something from her.
Always with a heart for social justice, she continued to work for the poor and for peace. After several other key transformational events, she and Peter Marin began the newspaper,
The Catholic Worker

and created
Catholic Workers Houses

to feed the poor and house the homeless during the Great Depression. Catholic Workers Houses continue even today in the poorest sections of major cities.
Her writings made her well known. She met with popes and bishops and even Mother Theresa. She often would speak at large events during the afternoon and spend her evenings serving soup and scrubbing toilets. She lived a life of voluntary poverty.
Dorothy committed to following Jesus by taking to heart the message in the
Sermon on the Mount.

She served others in poverty and loved the poor, rejected, marginalized in life and actually followed what Jesus taught.
She measured her life in how she fed the poor, gave drinks to the thirsty, welcomed the stranger, clothe the naked, cared for the ill and visited those in prison.
Loving your enemy and practicing non-violence are not always popular decisions. Many people disliked her stance for peace during World War II and her later protest against nuclear weapons and marches for civil rights. Yes, even in her later years, she spent brief times in jail for her protesting.
What drove this woman's passion?
Dorothy spent time in daily prayer, worship, fasting, and studying the Bible. In her later life she often went on retreats and encouraged others in this practice. A person of holistic spirituality balances the inner nurturing of the soul with the serving of others, all grounded in Jesus' words.
Mmmm, I am learning much from this woman.
Perhaps the greatest lesson I learned from Dorothy is love. She wrote, "
Love is the measure

" and "
Your love for God is only as great as the love you have for the person you love the least
."
My journey with Dorothy began in 2004 and she now has a special place in my heart. She was fully devoted to God and followed His word with her whole heart, mind, soul and strength. She lived the greatest commandment.
Additional quotes from Dorothy Day:
Food for the body is not enough. There must be food for the soul.
I have long since come to believe that people never mean half of what they say, and that it is best to disregard their talk and judge only their actions"
"My strength returns to me with my cup of coffee and the reading of the psalms. "
No one has a right to sit down and feel hopeless. There's too much work to do.
There is plenty to do, for each one of us, working on our own hearts, changing our own attitudes, in our own neighborhoods.