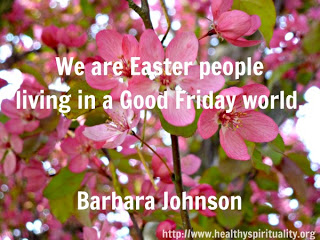 Many of you read last week that I attended the Erma Bombeck Writers Workshop. I came home, refreshed and enthused, then hit a wall. Yep, post conference lethargy. My muse shifted gear into Slothville.
I have learned to be gentle with myself after a great experience. Almost always there is a let down after the mountaintop. Guess my mind and heart need some adjustment time after higher altitudes.
What I noticed this year was the same type of weariness after Easter too. Post holiday blues. Suddenly my attention drifted away from God. My journal laid open but no new entries. My prayers so filled with new readings and openness during Lent, sounded flat.
The time after Easter is called Eastertide. Learning more about this season helped me refocus on its promise of hope and its lessons for growth.
Eastertide is the 50 days following Easter, the time from that day to Pentecost. Easter isn't stuck on death; Easter brings us through the doorway into new life.
I am slowly learning that, though Easter comes in the calendar only once in a year, for the Christian every day is an Easter. Each morning we rise to newness of life. We begin each day with knowing God has defeated death.
At the beginning of Lent, I heard God ask me, " How will your heart be different on Easter?"
Now He whispers, "How has Easter transformed your life? How does Easter change your daily living?"
We take Lent seriously. We plan our Christmas season down to the smallest details. But how do we live each day as an Easter people? What does that look like?
I sit quietly and pray. I listen for God's guidance. 
I hope some of you will add your comments to this conversation.
With blind faith I open my heart to the next step and will my clutched fists to let go of old behaviors. I cling to His promises of new beginnings and transformation. I chose love. I try to trust Him more.
Anne Lamont said on NPR radio last year about Easter,
"Well, it's the most profound holiday in the Christian tradition," Lamott says. "And I think two things really come to mind. One is something that the great writer Barbara Johnson said, which is that we are Easter people living in a Good Friday world. And I think that every year the world seems more of a Good Friday world. And it's excruciating, whether it's Japan, or Libya, or whether its your own best friends and their children who are sick, which is something that makes no sense when you think about a loving God. But it's a time when we get to remember that all the stuff that we think makes us of such value, all the time we spend burnishing our surfaces, is really not what God sees. God, he or she, loves us absolutely unconditionally, as is. It's a come as you are party."
 I don't know the answers, but am listening and praying about this with a hopeful heart. I feel like a toddler just learning to walk – it's a wild, fun and sometimes wobbly adventure.  Yes living as Easter people and loving God is a come as you are party.  
What do you think? How does being Easter People change you?