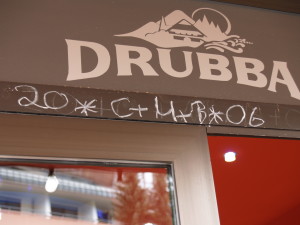 Epiphany  – what a fun word to say. Say it aloud.
Epiphany. The letters tumble from your tongue.
January 6 is Epiphany, a Christmas celebration, recognizing the visit of the Wise Men to the baby Jesus and in some churches, Jesus' baptism is also acknowledged. It can also be called the "Twelve night" as it is 12 days after Christmas. Epiphany goes back as far as 300 AD.
The word Epiphany means to appear, manifestation or revelation. Epiphany is when Jesus was revealed as God's son or made known to others. This day celebrates God's revealing or manifesting of Jesus' identity as true God, Messiah, and Savior of the world. It not only commemorates the fact that Jesus appeared to save us, but that God revealed the identity of Jesus to the world.
This holiday is celebrated in a variety of ways. When we visited Germany, we would see chalk on the front doorways of homes and business. This marked the blessing of the buildings done each year on January 6th.
See the photo above, taken in 2006. Above the archway they wrote: 20  * C+M+B * 06.  The numbers referred to the year. The letters, CMB stood for two things. One is the traditional names of the three Wise Men – Caspar, Melchior and Balthasar.   CMB could also mean "Christus mansionem benedicat" or "May Christ bless this house."
In Germany we also learned they have a few fun Epiphany sayings. "If there hasn't been any winter (weather) until Epiphany, none is coming afterward." and "If the eve of Epiphany is bright and clear, it foretells a good wine year."
Thinking about Epiphany I wondered how my house recognized Christ. Do guests feel welcomed? If a stranger entered, would he know I am Christian? Is love spoken here?
I also love the thought of blessing the house for the upcoming year. "Bless this mess" could work.  Or seriously I could enter each room with a special prayer:
God of hearth and home, maker of love and laughter, bless this home as a place for reflection and restoration, rest and renewal.
Lord, be with all who enter and live in this house and may they find your love here.
 Give us grateful hearts for daily bread, O Lord, and keep us ever mindful of the needs of others.
May we welcome guests as you received all with open arms.
 May this dwelling be a place of peace, health and harmony.
Come, fill this  home with joy and love.
Have you ever blessed your home? I'd love to hear about it.