Six days before the Passover, Jesus came to Bethany, where Lazarus lived, whom Jesus had raised from the dead.
Here a dinner was given in Jesus' honor. Martha served, while Lazarus was among those reclining at the table with him.
Then Mary took about a pint of pure nard, an expensive perfume; she poured it on Jesus' feet and wiped his feet with her hair.
 And the house was filled with the fragrance of the perfume.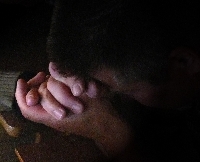 And the house was filled with the fragrance of the perfume
So many lessons today from Your Word, Lord but I can't help being drawn into Mary's moment of uninhibited worship.
Mary brought to You her most valuable possession and poured it out for You with intimacy, tenderness and extravagant love.
Just a few drops of her precious perfume would have been adequate, enough, sufficient, but she choose to gave You all. Everything.
Then she humble drew close to You to distribute its soothing balm with her hair.
May my heart be so willing as hers, Lord.
May I lavish all I hold dearly and all I cling too tightly and empty everything at Your feet.
May lavish my worship to its very last drop.
May I gaze into Your eyes of love and humbly sit at Your feet.
May my praise rise like Mary's fragrance.
Lord, may I have a heart and love like Mary's.