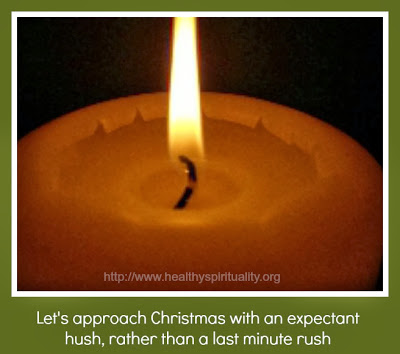 Advent started early for me this year. Actually Advent 2014 began a month ago when I signed a contract to write an Advent devotional book for Barbour Publishing.

 

With a deadline looming, I have been deeply pondering and cherishing the Christmas story long before the leaves fell from the trees and the turkey began to defrost.
 

Advent 2013 starts this coming Sunday. What a wonderful time to look past the commercial craziness of Christmas shopping and partying to embrace the Christ Child and his good news for all of us. I hope each of you take some moments the next few weeks to walk with God, listen to his story and rejoice in his salvation.
 

Here are some resources to help light your journey to Bethlehem this year:
On that website I found this unusual prayer for Shopping during Advent:
Dear God, as I look through my gift shopping list, I hold up to you each person listed on it.
Slowly, one by one, I ask that the fire of your abundant love burn within each of them. 
 I pray that the gift I find for each person will bring joy into that life.
But, help me to keep a balance this season,
Lord. Let me keep my buying in perspective, not to spend more than I need to or can afford.
  Let me not give in to the pressures of this world and not equate love with money spent.
Let me always remember the many, many people who have so much less in material things.
 Help me to buy wisely, so that my choices will not burden those in other countries who are so deeply affected by this country's economy.
And finally, loving God, help me to find time in the frantic moments of each day to become centered on you. 
 Walking through a store, riding on the bus, hurrying down a street:
let each of these times be moments
 when I can remember your incredible love for me and rejoice in it.
4. Anglicans Online has an extensive resource list including the explanation of the O Antiphons.
You may like seeing my latest book, released in 2016: Christmas Seasonings: 101 quotes and prayers to flavor the season.
What is your favorite way to celebrate Advent?