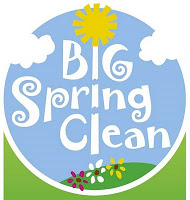 Last week's warm weather in northwest Ohio jumpstarted my spring cleaning. I emptied cupboards, reorganized shelves, and even washed the outside windows.  The silver tea service I inherited from my mother is buffed and polished. The house is beginning to shine.
That is not all.  I made my appointment for my overdue mammogram and even had my teeth cleaned.  Sparkling though and though, right?
Then I felt God nudge me:
What about some spiritual spring cleaning
?
Mmm, good time to assess that, Lord.  I know the dirt and grime in my heart and soul contaminate my life and draw me away from God.  Here are five spiritual spring cleaning tips I am going to work on:
1.
Get rid of clutter
–
Get rid of all bitterness, rage and anger, brawling and slander, along with every form of malice.
Ephesians 4:31.   Ok, time to dispose of my judgmental and sarcastic attitude. Help me to let go of old habits and sinful ways, Lord. I have been writing a lot about my poor attitude in my journal. Periodically I review what I write there, highlighting what I have learned and what I think God is showing me – I call it harvesting my journal.  Time to conduct a spring harvest and ask God to show me the next step in this chipping away of what does not belong and transforming my heart more like His.
2.
Take off the winter blankets and put away the heavy wool afghans
.
Therefore, since we are surrounded by such a great cloud of witnesses, let us throw off everything that hinders and the sin that so easily entangles, and let us run with perseverance the race marked out for us
– Hebrew 12: 1.  I will spend more time in prayer
listening
than rambling on with my needs. Lord, open my heart to hear your word anew. Only in You do I find freedom.
3.
Dust those cobwebs out of the corners of my mind.
Let the word of Christ dwell in you richly
Colossians 3:16a.   I want to pay closer attention to God's word by finding a new
Bible study

to dig into this spring. Lord, awaken me when I read your word and give me new eyes like I am hearing it for the first time.
4.
Dig up the dead weeds and replant.
I planted the seed, Apollos watered it, but God made it grow
. 1 Corinthians 3:6.   I choose You, Lord, rather than my self-destructive habits of discouragement and self-pity. May seeds of hope, faith, and love be nurtured in my heart this season, Lord.
5.
Throw open the windows, welcoming fresh air.
Our mouths were filled with laughter, 
our tongues with songs of joy. Then it was said among the nations, "The Lord has done great things for them."
Psalms 126:2
.
  I breathe in the refreshing breezes of
gratitude.

You have done great things for me, Lord, thank you. My heart leaps with joy and I count the many ways You have blessed me. Your Spirit fills my heart and guides my path.
Have you begun your spring cleaning yet? How will you renew yourself spiritual this season?